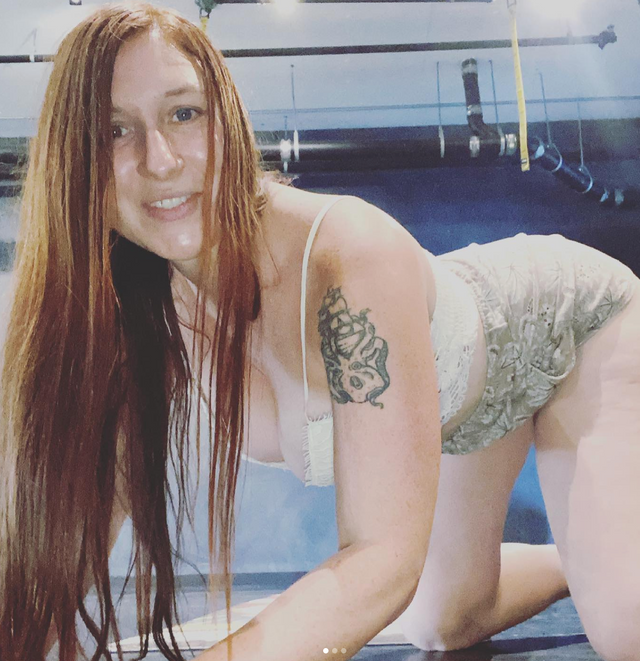 betcha can't name a hot sex topic suzannah weiss hasn't covered, coached or tested. we'll wait...
let sex coach suzannah weiss up your orgasm game
Ya know that list of 4 people living or dead that you'd want to invite your next dinner (or sex) party? Scratch off at least one person immediately and sub in feminist writer, certified sex educator and sex/love coach Suzannah Weiss. With more than 8,000 articles published in every top publication (New York Times, Washington Post, New York Magazine), her work mentioned whenever there's a hot feminist topic discussed (The View, Today Show, BBC, Forbes, Fortune), a triple degree from Brown (that's Ivy League, baby), more than one book currently in the making, and a thriving sex and love coaching practice, we guarantee she's a contender for a Most Interesting Person Here award in every room she enters.  If you're looking for better sex (um, who isn't?), check out her one-on-one coaching session or book one of her many online workshops (we've got our eyes on this men's course designed to help them empower women). 
We were lucky enough to get a few minutes on Suzannah's calendar... 
xxx
You've said that great sex starts outside of the bedroom and it's really an extension of sensuality… how can we cultivate more sensuality in the real world so it impacts our sex life? 
Suzannah Weiss: 
I think that the key to great sex is being present in your body and being aware of your physical sensations. Some people call it mindfulness. You can start with very small things such as when you're in the shower, notice how it feels, the water against your skin, or when you're soaping yourself up or even when you're walking, notice how the ground feels against your feet. Just get into a habit of noticing things because then, when you're in the bedroom, you'll better be able to notice what sensations you're feeling there, whether it's pleasant or unpleasant. If it's pleasant, then noticing it will make it grow and if it's unpleasant, then that's good to notice, too, so that you can address that and not have that interfering. 
---
Do you think it's more around the sense of touch or can you do it also with scent, sight, hearing…? 
Suzannah Weiss: 
That's a good point. It could be with any sense. In fact, one thing to do is to pay attention to how your home is set up because that can definitely affect how sexy you feel, like If you have sheets that are really silky and feel sexy to you or even essential oils that smell good to you, those can be both a turn on in and of themselves to bring into the bedroom, as well as another way to get practiced at noticing and experiencing sensuality and pleasure whether it's overtly sexual or not. 
---
I love that you are both sex journalist and sex/intimacy coach… what do sex journalists and sex coaches know about mindblowing sex that the rest might not?

Suzannah Weiss: 
I'm going to answer by telling you what the people I talk to don't seem to know. I think the biggest thing, it's actually a cliché but maybe it isn't a cliche everyone's heard, is the importance of communication. I feel like most people have heard that, but I think as a sex writer and coach, you get to know specifically what that means. For example, I was coaching a guy the other day who understood communication was important but he was like, 'But my partners don't communicate so I need to learn from you what to do,' and I was like, 'Oh. Well, you could ask them.' If they're not telling you what to do, you could be like, 'How is this? Is there anything I could do to make it better?' Try doing two different things, ask which they like better.
"...we're the queens of our pleasure. We're the queens of pleasure. We have that in us. It's up to us to share that with partners. We don't need partners to fucking teach us what sexual pleasure looks like."
Sometimes communication means — and I have a really hard time sometimes convincing women that it's okay to do this — to be like, 'Please, I would like a lighter touch. I would like you to touch more to the right. I would like you not to touch my pussy yet. I would like you to touch my breast.' A lot of women, especially women who sleep with men, think that will turn a guy off… and then you have guys on the other hand, like the one I told you who thinks that they can't ask, so it just creates this cycle of silence when really, both partners usually want the other one to be communicating. And so, that's a big myth that I hope to bust, that either men don't want women to communicate or that women don't want men to communicate or just that no one wants anyone to communicate. 
---
That's so interesting because it feels good when you make your partner feel good so if you're doing it "right" or according to what they like, you get rewarded. 
Suzannah Weiss: 
Exactly. And yeah, I give people gentle ways to ask for feedback or give feedback that aren't going to put anyone on the spot. I like the phrase, 'What can I do to make it better for you?' because that implies it's already good so that could go both ways. Someone could ask that question or someone could say, 'It would make it even better if you did this,' or start off by saying something that's going well and then say, 'Could you also do this?' Those are some gentler ways to do it but, in my own experience, people appreciate it. You don't need to dance around it that much. That puts some people at ease, but most people are pretty good at taking feedback as long as you're not mean about it. It makes the partner feel good about themselves if they can please you, so really, you're not wounding their ego, you're increasing their ego, if anything, or boosting their ego, that's a better phrase. 
---
---

One of your areas of expertise is spiritual sex… what is that and do we incorporate it into our sex lives? 
Suzannah Weiss: 
Under the umbrella of sacred sexuality, there's things like tantra, there's breath work, there's this philosophy of moving sexual energy around the body. So a few simple exercises you can try, like one that gets talked about a lot, is tantric eye gazing where you sit across from your partner and you look into each other's eyes. As you breathe out, they breathe in, as they breathe out, you breathe in, and it's a way of getting more connected and attuned to your partner so you can better intuit what they're wanting in each moment. You still need to communicate, but you can foster that deeper connection where you are just better able to intuitively read each other's bodies because you're more connected. That's an exercise you could do for just five minutes before sex, see how that affects your sex life. Another exercise is orgasmic breath work where you can use your breath to move sexual energy throughout your body. So if you're feeling... I know sexual energy is maybe a nebulous term, maybe I would define that just as a sense of a sexual sensation that you feel in your body. So if you're just sitting there and you're not actually having sex, you can usually, if you really tune into your genitals or your overall pelvic area, you can feel that there's something going on there. You can feel a little bit of pleasure, usually even if you're just sitting there. And then, so you take that feeling and as you breathe in, you focus on moving that feeling to other parts of your body. So maybe with your inhale, you want to move that feeling up to your chest and you could imagine light or heat in your pelvis rising up to your chest. Some people picture it moving up the spine so it's almost starting in your pelvis, going up your spine, all the way up your head, and you just visualize that happening with your breath and you get this whole-body orgasmic feeling. Not necessarily a whole-body orgasm, but just a feeling of pleasure throughout your body. Some people get an emotional high off of it. Reactions vary but if you practice this repeatedly, you can learn to feel more with less touch and generate that pleasure from yourself.
---
"I think honestly, the biggest thing on my sexual bucket list is to learn how to have such connected sex that I completely let my mind go and I'm just looking into the other person's eyes and so wrapped up in their eyes and the feeling of them intertwining with me that I just lose myself, all thoughts go away. I don't know if I've completely experienced that."
---
Since you're also trained as a psychic medium, I'm curious how we can use energy to heighten orgasms? 
Suzannah Weiss: 
Actually, you can find on my Instagram, I just created an audio meditation that you can use for this. If you visualize a scene that's highly erotic to you and just really concentrate on that, sometimes people can orgasm or just feel pleasure through that. Visualization can also mean visualizing sexual energy in your body. So you might visualize, as I alluded to, sort of red heat throughout your pelvic area and visualize that rising. For some people, the visualization really works. There's also erotic hypnosis, which you can search for erotic hypnosis recordings on YouTube where people will put you into a trance. There's usually a voice that will put you into a trance and then feed you commands and the ideas, some of them can elicit touch-free orgasm. So those are different things to play around with if you want to experience different forms of sexual pleasure.

Also, how can we use that same sensual/erotic energy to heighten our power and mojo out in the real world? 
Suzannah Weiss: 
One thing that can be really effective but can also be distracting is to regularly masturbate without orgasm. That makes you very energetic and often makes you feel happy and glowing but it can also just make you horny so you don't want to focus on other things. There is a technique called extended orgasm that can be practiced on vulvas or penises. On vulvas, you lift the clitoral hood and with lube on your finger stroke the upper left quadrant of your clitoris or really wherever it feels good. The idea is you're not trying to orgasm, you're trying to take in as much pleasure as you can without actually going over the top so you can sustain that for a while. If you practice that, you can have vaginal contractions that are orgasm-like but the difference is like you don't feel done, you keep going. That can be one way to sort of experience a release, but not so much that you lose the energy. With penises, you stroke the frenulum, the underside of the penis. You can set aside a session, and you can do it to yourself, a partner can do it to you for a specific amount of time. Maybe it's 10 minutes, maybe it's half an hour and that can be a way for some people to cultivate that energy in their bodies that sort of fuels them without experiencing orgasm, but also without feeling pent-up and sexually frustrated. 
---
With all the sex workshops, trends, classes, parties… what are some of the epiphanies or aha moments you've had while covering sex and coaching? 
Suzannah Weiss: 
I went on a journey around age 25 to 29, where initially, I had never had an orgasm with a partner and it was through these things I was doing for work that I learned to do that. One was actually hypnosis. It wasn't erotic hypnosis per se. It was hypnosis geared toward improving one's sex life and one was just a class I took about female orgasm and that opened me up to the idea of believing it was possible and also getting fired up about the fact that so many women share this struggle and that so many men feel entitled to orgasms when we don't. That was the first step, just learning to feel entitled to that pleasure. And so, that was a big epiphany, that there wasn't something wrong with my body, that it was actually a psychological blockage that I didn't feel like I deserved to do whatever it took. I was with one particular partner at that time. And then after we broke up, I went on that journey all over again. This is a digression but I like to say we broke up over a 90-minute orgasm because what sparked our breakup was a sex coach who said, 'Hey, I would like you to write about this new technique of mine called the 90-minute orgasm where I give women multiple orgasms for 90 minutes so that it blends into one,' and I approached my partner with this and he was mad at me that I even asked and took it as an insult to him that I was implying he couldn't do it and that sparked the end of our relationship because I realized I needed someone who was a little more flexible in terms of monogamy.
"One thing that can be really effective but can also be distracting is to regularly masturbate without orgasm. That makes you very energetic and often makes you feel happy and glowing but it can also just make you horny so you don't want to focus on other things."
And so then, I had this session with this person and I didn't experience a 90-minute orgasm but I further worked through this issue of viewing my body as complicated. And he was really encouraging and was just like, what's making it complicated is this idea that you're complicated and just further instilled the idea that I could do it. That summer, I went to nine sex parties and realized through different partners that I could do it and that actually being a woman is awesome because we can experience so much pleasure. I feel like the bigger lesson was that I felt unlucky to be female because supposedly, women are difficult in the bedroom. There are many ways in which women are taught that they're unlucky to be women but I feel that's one of them. And I worked with a bunch of different people and I'm still doing that to unlock my full capacity for pleasure because I still don't feel like I've achieved that. But what I know is that what most of us experience in our sexuality is just the blip in comparison to what we are made for and I hope that one day I'll be teaching everybody how I learned orgasm through intercourse without physical touch and all these different things that I know are possible and I'm still working up to.  
---
Thank you for sharing that. I agree with you. I feel like it is a blip and as women, we sort of mindfuck ourselves into believing we're complicated or we believe that we're not entitled to this, like you said.  
Suzannah Weiss: 
I just feel like it does this such a disservice when we're taught like, 'Yeah, sexual pleasure comes so much more easily to men. You're lucky if you have an orgasm. You should just enjoy sex for the emotional intimacy.' Like, no, we're the queens of our pleasure. We're the queens of pleasure. We have that in us. It's up to us to share that with partners. We don't need partners to fucking teach us what sexual pleasure looks like. Sorry, I get passionate about this.
---

1000%. I'm with you. I'm glad you're passionate. It's one more element of the patriarchy but I think with your workshops and message, you're going to be able to touch more and more people with your insights.
Suzannah Weiss: 
I think it really does start outside the bedroom. It's about being able to feel what's in your body and addressing all the places where you've disassociated and learn to tune things out. It's just about tuning back into life and just brightening your awareness of all that surrounds you.

Just to pivot, I read that you trained yourself to have an orgasm every time you had sex, how can we do this with any type of orgasm ie nipples, anal, etc.? 
Suzannah Weiss: 
I think it starts with learning to think of that body part as sexual. Personally for me, I didn't think of my breasts as sexual for a long time because I had some trauma around that and thought that was just something for men. And so, part of it was just reclaiming that and being like, 'I get to experience this for myself.' Like, 'No, patriarchy doesn't have to have a say in it. I can look at this through my own eyes and interpret it how it is,' so some of it is that. If you tell yourself when you're touching that body part, 'That feels so good.' I'm not talking about faking it but just experimenting with calling it good, experimenting with thinking of it as pleasurable. Because sometimes there is, as I was talking about before, sometimes our default is we do feel a little bit of pleasure somewhere and putting our focus on it makes it grow. Another more straightforward way to do it is to pair up different sensations. If you experience pleasure in your clitoris and want to learn how to experience anal or nipple pleasure, stimulate both of those body parts together and you'll start to build new pathways that include the body part that you're wanting to grow sensitivity in. And there are meditations. I sometimes recommend the app Inscape. There are sex meditations including one specifically for breast pleasure. I think all the techniques I mentioned, meditation, breath work, visualization can be used to carry sexual sensations to different body parts.
---

What's still on your sex bucket list and/or what should we have on ours? 
Suzannah Weiss: 
To have a threesome with two men, that's something. I think I enjoy the archetype of the insatiable woman and it fulfills that fantasy I have and that self-image I have of myself is — I don't know how graphic you want me to be — it's like devouring multiple cocks. I think honestly, the biggest thing on my sexual bucket list is to learn how to have such connected sex that I completely let my mind go and I'm just looking into the other person's eyes and so wrapped up in their eyes and the feeling of them intertwining with me that I just lose myself, all thoughts go away. I don't know if I've completely experienced that. I think I've experienced gradations of it. I think that sex in general does that. It just helps you let your mind go, but I find myself often tuning in and out. There's the observer you and then there's the you that's inside you and I feel like those selves, I'm almost conversing with the observer during sex even if I'm in the inner me, I'm conversing with the observer. I haven't completely silenced that part of myself. 
---
Well, I hope you get your bucket list nailed. 
Suzannah Weiss: 
I have many years so I'm hopeful. 
---
---
How did Suzannah Weiss inspire you?
shop new bras, panties + bodysuits a yummier sex life
lose yourself in sexy, kinky, playful inspiration
📸: @weisssuzannah