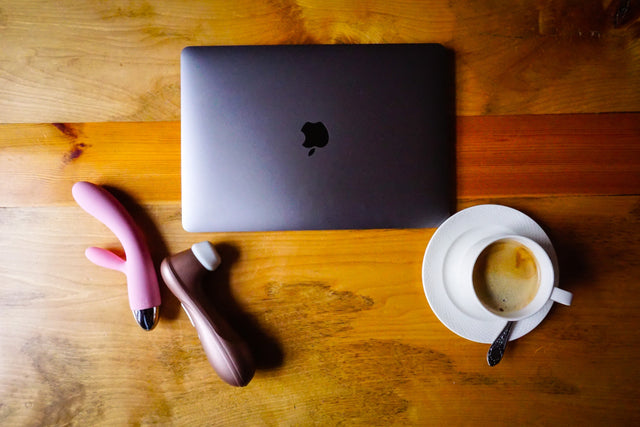 sign up for these online sex classes, your vulva will thank you
boost your bedroom skills with pro online sex class
Is there a better way to start the day than an orgasm and coffee? What if we added a sex workshop into the mix to spice things up, stoke your curiosity and build your arsenal of juicy sex skills? We've got dozens of online sex ed courses from the best sex experts, coaches and sexologists below to satisfy all your itches and make coffee hour a little longer and a lot more fucking interesting. Keep these sites short-listed because these pros are always adding more to their tool kit (and yours.)
FOR DICK RIDERS
Sex expert Tyomi Morgan's Cowgirl Workout is the dick-riding workout your pussy has been DMing you about. You'll learn nine+ stroke moves (yes, nine) that open hips and give you grind moves that promise to snatch your partner's soul. Tantric breath work, stretch classes and yoni egg workouts are also on the weekly schedule. She's even got shorter classes so you can bang one out between meetings.
FOR NEXT-LEVEL FOREPLAY
Sexologist, sex professor and author Marla Renee Stewart has built a virtual library of on-demand sex ed classes that touch on all levels of experience so you can build your arsenal of bedroom skills. From the art of dick teasing, seduction and orgasms to kink, anal play and threesomes, visit Velvet Lips and leave with serious skills.
FOR INSANE PUSSY POWER
You might know sex and relationship coach Kim Anami from her status as a vaginal weight lifter, but her sex salons are equally impressive. Learn her vaginal weight-lifting skills, how to be a well-fucked woman, landing those elusive g-spot orgasms and more. Salons include a virtual drop of class material, assignments and a live Q&A.
FOR PRO-LEVEL HAND SKILLS
Ashley Manta (aka the cannasexual) is more than the queen of weed-sex, but also a host of an amazing arsenel of other sexpert topics. Check out her workshops on dirty talk and hand skills to up your game. Or, she's recently added sex retreats to her offerings so check her IG to grab a seat at an exotic location near you.
FOR PRIVATES ON SEX TOYS, BJs + BDSM
Who know sex toys better than a sex shop? Book a personalized toy tour with Portland, Oregon-based She Bop to score the latest, greatest products. If that doesn't spark lust, they've got a menu of private virtual classes to choose from in 10 different sexy topic areas. Each class is 60 to 90 minutes.
FOR COUPLES KEEPING IT JUICY
This couple's e-course — Roadmap to Intimacy — is designed by Dr. Jenni of The Intimacy Institute to increase your physical, emotional, sexual and sensual connection with your partner to help you go deeper than ever. 
FOR FREEING YOUR FANTASIES
Sex and intimacy coach and Stanford lecturer Dr. Alison Ash has a host of workshops designed to create healthier relationships and deeper levels of intimacy with both yourself and your partner. For those looking to add their mental game to the physical, look for topics like upping your sexual intuition, freeing your fantasies, being a more intuitive lover and "eating pussy like a champ."
FOR THAT BEGINNER PLAY
We love the idea of expertly hosted and curated online sex workshops tailored to your needs. Sexpert Consultants hosts a variety of topics from beginner's kink and anal play 101 to pleasure body mapping and mindblowing oral sex. While they thrive in the beginner-skills arena, they offer so much more, including privates.
---


FOR MORE SPIRITUAL SEX
Sex coach, author and energy healer Rebekah Beneteau's Pleasure Evolution helps you unlock the eroticism within you through a variety of on-demand classes and free webinars ranging from sex skills like kink and oral sex magic to intimacy like pillow talk and desire. 
FOR THAT SQUIRTING MAGIC
If you're down for squirting and gushing, clinical sexologist Cyndi Darnell will give you all the deets in her online workshop. For just $27 it's worth a literal shot.
FOR SEX TOY SKILLS
Love Honey's YouTube channel has hundreds of sex classes and workshop built around techniques, skills, toys and more dating back 10 years. Seriously, we doubt there's a topic not covered. Grab your lube and check it out.
Did we miss an online sex class you love? Share in the comments below 👇💋
find your online sex class lingerie uniform
read about more sex classes, toys + playthings