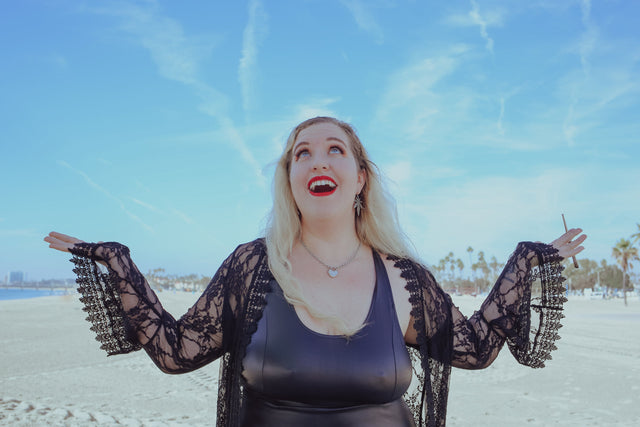 taboo enthusiast, hedonist, cannasexual ashley manta talks sex + weed
meet ashley manta, your queen of sex + weed
CannaSexual. Priestess of Pleasure. Sexpert of the Year. Playboy Advisor. Bestselling author. Former phone sex operator. These are just some of the sexy descriptors and impressive attributions of award-winning sex educator and coach, Ashley Manta. You might know her from features in Forbes, The London Times, Rolling Stone and on Viceland TV where virtually no topic is off limits, or her  Elevated Intimacy podcast where she deliciously deep dives into sex toys, tricks, techniques and experiences. As a game-changing voice in the industry, she coined the term CannaSexual, the practice she created of mindfully combining cannabis with sex to heighten your pleasure. More than a media darling, Manta has created multiple ways to share her genius with you, including concierge coaching (both solo + couples) with her colleague  Dr. Shannon Chavez. If you want serious face time, she Dr. Chavez are hosting a 5-day Pleasure Camp in Hawaii that's as indulgent as it sounds. Or if you're down for a more digital experience, check out her new online course, The Skillful Lover, via her Elevated Intimacy Academy to upgrade your techniques and mindset without leaving your couch (bed, car, office bathroom, etc.) In the meantime, check out her interview below about weed-sex, lasting passion, hand job mastery and more...  
What are some of the most eye-opening things you teach or coach that surprises people when it comes to sex and pleasure?
Ashley Manta:
First and foremost that orgasm does not need to be the goal of sex or a benchmark for a successful sexual encounter — as my favorite sex researcher Dr. Emily Nagoski likes to say, "Pleasure is the measure." Focusing on pleasure, rather than orgasm, takes away the performative and goal-oriented pressures of sex and allows everyone to just relax and enjoy themselves, whatever that looks like. Letting go of societally scripted expectations of what sex is, what it looks like, feels like, sounds like, etc., is a fantastic way to create space for enjoying what's actually happening. And since our partners aren't mind readers (although that would be so handy sometimes) we have to actually articulate our preferences and desires in real time — another thing I spend a lot of time teaching and coaching about.
---
You talk a lot about pleasure and finding what works for you. What if someone doesn't really know what brings them pleasure? For example, maybe they're not aware of all that's possible or they're stuck at the edge of what's next, how can they discover more?
Ashley Manta:
I highly recommend sex coaching for anyone who could use support and guidance around pleasure and intimacy, but for those with financial barriers to those kinds of services, there are lots of other great resources from which to draw inspiration. The book Come As You Are (2021 updated edition) by Dr. Emily Nagoski is something everyone (who either has a vulva or loves someone with a vulva) should read. Listening to podcasts can also be a source of inspiration. Some of my favorites are Sluts and Scholars, American Sex, and of course, my own, Elevated Intimacy. I don't recommend watching porn for inspiration unless you're savvy enough to separate reality from fantasy (you are watching professionals on a closed course, after all), but reading erotica can spark some ideas for scenarios to explore or even positions to try.
"I was so tired of seeing these sad hand jobs represented in popular media and porn. Unenthusiastic, limp wrist, no lube… so depressing! I want to rebrand hand sex (for any type of genitals) as an erotic massage."
---
What are some off-the-radar ways that cannabis can be used in sex, foreplay or orgasms?
Ashley Manta I swear by THC-infused topicals for the vulva. That was the game changer for me back in 2014, and allowed me to have pain-free penetrative sex for the first time in my life. Even without the discomfort reducing and relaxing effects, THC is also a powerful vasodilator, which brings more blood flow to the area, often leading to enhanced sensations and for some — even more frequent and/or intense orgasms. For couples, it can also be fun to create rituals around cannabis consumption — having one partner lay out the supplies (maybe even taking a picture of the supplies arranged and sending it to the other partner as foreplay), mindfully consuming together, and even "shotgunning a hit" where one person inhales from the joint/pipe and then exhales into the other person's mouth while they inhale. It's both sexy and effective!  
---
How can we use weed in the bedroom as an ally for stretching boundaries, self-discovery and more? 
Ashley Manta Anytime you're going to be exploring sex in an altered state, it is a cause for pause prior to diving in. I have an axiom: negotiate before you medicate. Have a conversation about what one or both of you are consuming, what you're expecting it to do for you, what kinds of activities you're willing to explore together, and what boundaries you have. Use the inhibition-lowering effects of cannabis intentionally to push yourself to try things that you're curious about, or experiment with new locations or fantasies or types of touch. Then make some notes — be sure to include both what and how much cannabis you consumed and what you noticed after you started experimenting! •••
---
What cannabis products or strains should we have on hand for sex and self-pleasure?
Ashley Manta:
Strains are impossible to recommend with any sort of reliability because they vary so widely from grower to grower, and even sometimes harvest to harvest. Not to mention, effects will vary widely from person to person based on tolerance/metabolism, context (environment/mindset/setting), and even the amount of food in one's stomach. That said, I'd recommend a broadly "less is more" approach to consuming intoxicating cannabis products. You're not trying to get stoned off your gourd. It's an enhancement, so imagine it like adding salt to your meal — you can always add more if needed, but you cannot subtract once it's in there.  
---
As a former phone sex operator (with a workshop on the art of dirty talk), you've got this naughty lingo thing nailed. What are some things we can do immediately to "improve" our game?
Ashley Manta:
Lean into the awkward! Most people have a lot of hesitation around saying erotic things out loud. If you're anything like me, you grew up masturbating in stealth mode — silently and as quickly as possible — so the concept of making any noise during sex can feel daunting. Add that to the societal shame around even admitting we have desires, much less sharing them with a person who might judge or even reject us for them, can leave you feeling like dirty talk is too fraught to attempt. Here's the thing though. Everything is challenging until you get some experience at it. Start by just vocalizing more during sex — things like "oh yes!" "more please!" "right there!" "don't stop!" and then start to sprinkle in feedback or instructions like, "that feels great and I love your enthusiasm — what would feel even better is if you…" or "I can't wait to feel your X touching my Y". Just remember that you and your partner are on the same team, so even if you blank mid-sentence or say something that comes out sideways, you can both just laugh it off and move on.
You have a class on how to master hand skills… why hand skills mastery? What more can we possibly do with our hands that we're not already doing :)?
Ashley Manta:
I was so tired of seeing these sad hand jobs represented in popular media and porn. Unenthusiastic, limp wrist, no lube…so depressing! I want to rebrand hand sex (for any type of genitals) as an erotic massage. The receiver lying on their back, the giver sitting between the receiver's legs. Lots of lube. Eye contact. Communication. Enthusiasm. Presence. Letting hand sex be a destination all its own, not just a stop along the way to oral or penetration. It can be a pleasure meditation if you let it. My jaw and tongue fatigue way faster than my hands do, so I honestly prefer to give hand jobs than blow jobs, and I much prefer receiving a vulva massage than oral. Everyone gets to choose, but I'm on a mission to make hand sex a more appealing choice.
---
When it comes to cultivating lasting passion (in our relationship and our lives), what's something you wish everyone knew or would do?
Ashley Manta: 
I wish everyone would read the book Magnificent Sex by Dr. Peggy Kleinplatz [Routledge, 2020]. She describes the eight components of extraordinary sex, taken from interviews conducted with thousands of people over 15 years. My biggest takeaway from that research, which hopefully will be yours too, is that extraordinary sexual experiences are not reliant on position, orgasm or technique. Rather these components include things like embodied presence, vulnerability, empathic communication and authenticity. I want people to focus on those things, rather than the latest trick they picked up from a Cosmo article. Seriously, read the book. It's a game changer.
"I'd recommend a broadly "less is more" approach to consuming intoxicating cannabis products. You're not trying to get stoned off your gourd. It's an enhancement, so imagine it like adding salt to your meal — you can always add more if needed, but you cannot subtract once it's in there."
---
What's one thing should we all put on our 2022 To Do list to positively transform our sex lives?
Ashley Manta:
Self-awareness. It makes such a difference in how you show up in your relationship(s) and for yourself. Cultivate a deep knowledge of yourself — your patterns, biases, desires, preferences, joys and triggers. Then share that information (with consent!) with those for whom it is pertinent. You have to be able to separate the feeling you're having from a story or narrative about what it means. It's okay to just notice you're feeling insecure rather than immediately making up a story about it like "I feel like you don't care about my pleasure." None of the words in that sentence were feelings. That was a story that was created in response to a feeling. Use feelings as an opportunity to get curious. What's coming up for me in this moment? Have I felt this before (so am I reacting to old situations compounded with with one, making my reaction disproportionate? This is a life-long practice, but it will transform both your sex life and your relationships.
---
How important is sexual fulfillment and true pleasure for our overall self-fulfillment?
Ashley Manta:
For someone like me? Crucial. There are certainly plenty of people who are less fueled by erotic fulfillment and more fueled by service, creativity or spirituality, which is completely valid. My mentor Betty Dodson was an unapologetic pleasure seeker until the day she died at 91 (Halloween 2020). She was also a huge believer in the healing power of cannabis. Hers is the epitome of a life well lived and I think we could all learn a lot from her example. Check out her book, Sex for One [Harmony, 2012], she explains it far better than I ever could.  
---
---
Don't forget to book one of Ashley Manta's virtual coaching sessions or online workshops on dirty talk, hand skills, tick tock... your juiciest sex life is waiting.  
Inspired? Learn something new? Tell us what moved you.
smokin' lingerie to wear with your sex + weed
more inspo for your sex + weed party