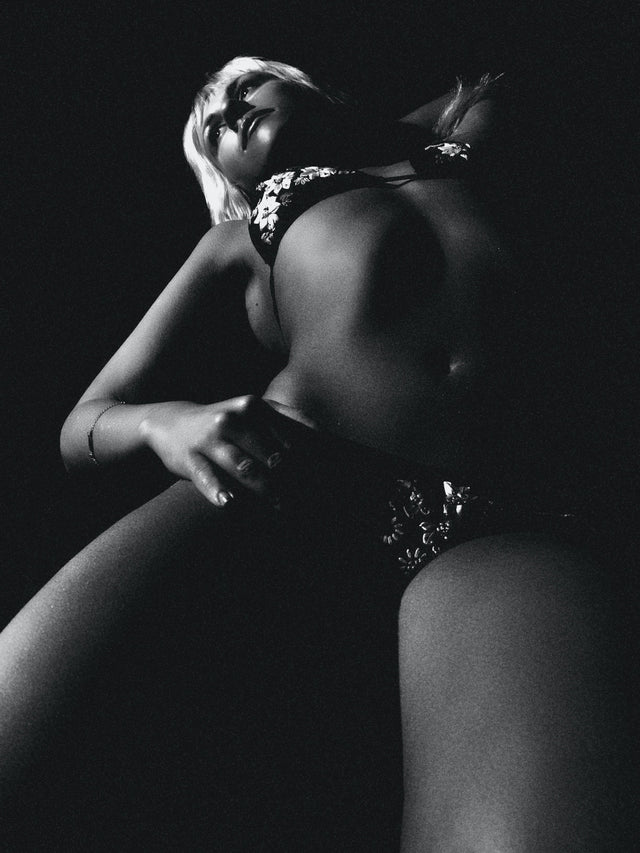 15 ways to up level your sex game and your pleasure. giddyup, lover.
just how much pleasure can you take? let's find out
You don't need to be a penis or vagina whisperer to have more fun in bed. All it takes is a little curiosity, a lot of open-mindedness and a willingness to commit to a juicier, lustier love life to help beat boredom, routine or lack of time. 
Challenge accepted. Even a small shift in pleasure is still more pleasure. Let's do this. 
try these 15 pleasure getters + inspire your own
be spontaneous 
Got dirty thoughts? Share them. In the mood? Do something about it whether you're alone or propositioning your partner for some XXX activities. Seize the day-um when you're feeling it. 
pleasure yourself into the squirt zone
Trust us, the practice time alone is worth it. Sex with Emily's interview with Deborah Sundahl is a (super) juicy place to start. She takes you step by step to the g-spot so you literally can't miss it.
start the 10-minute lust rule 
Add 10 minutes to the clock when doing what makes you feel delicious. If something doesn't bring you yummy pleasure, cut 10 minutes off the clock. 
set a clear intention
For example, I'm going to have multiple orgasms, I'm coming to experience wave upon wave of pleasure... And then relax and let the (wo)manifesting begin. If you're already a pro a multiple O's, maybe you go hands-free. Focus on your prize and enjoy the ride.
create an experience jar 
Write down all the new experiences you'd love to try… stay curious and keep adding to the jar. When you're looking for spice, pick a slip of paper and start playing. The goal is to discover all-new ways to bring yourself pleasure.
turn off your brain
When your mind is in control versus your heart, body, soul or sex drive, you can let inhibitions or fear stop you from asking for or doing what you crave. 
honor your biorhythms 
If you're lustiest at night, make sure you use that time wisely. Hungry for a.m. sex? Wake early to ensure you start the day off with a bang. When fvcking always feels like a chore or you're not in the mood to engage, you condition yourself to dread what should bring you pleasure. 
snag a sex deck of cards 
You know the ones with 50 to 100 different sex positions? When your fuck game needs a shot of adrenaline, pull a card and try whatever card you pull. If you're the creative type, make your own "deck" of pleasure cards with your sex bucket list items and fave, go-to moves.
think more is better
When going for what you want, don't dabble, be hesitant, act small. Instead, go for it with every ounce of you, whether it's a new position, new technique, role play, foreplay or this crazy thing you saw on Tik Tok. It's all in, baby (just keep that safe word close by).  
take the 7-day pleasure challenge
Repetition creates habits. Habits become part of your daily life. Commit to blocking out an hour for pleasure every day for a week and start a whole new delicious habit. Just 5% increase in pleasure a day is 35% in a week. 
surprise them 
The quickest way to ignite that spark is through surprise. Try something new you or your partner have been talking about, test-drive a fantasy, take your fuckmaking outta the bed and onto the [crazy spot that won't land you in a hospital] or simply blindfold them and let your imagination guide the rest.   
sweet talk your body
Tell your body how much you love and appreciate her, often. Like a flower, watch as she blossoms and opens and returns the appreciation. Once you seduce yourself, you can pass on the favor... 
bring your love life outdoors 
Discover the supernatural thrill of making love on the beach, being seduced on a forest floor, being nailed against a tree, being deflowered (all over again) in a meadow… even if it's just a quickie on your rooftop out of security camera range, go get some al fresco fucking. 
connect first 
Use your eyes, your energy, your whispers, your touch to connect with your partner, lessen your inhibitions and feel safer before you start deep diving into each other.   
workshop some new tricks 
Many sex shops and sexperts offer online sex classes or in-store workshops where you can explore specific techniques, toys or kinks from booty play and bondage to oral skills and full-body orgasms.  
learn the art of edging 
Teasing yourself or your partner to the edge of orgasm over and over can ultimately give you a far more intense (potentially full-body) explosion when you finally climax. Plus that level of control over your pleasure or theirs is super fucking hot. Cue the deliciously long foreplay. 
bonus pleasure
Play, play, play, add more play, play again. Laugh. Get messy. Let yourself go. Then rinse and repeat. This isn't a new sex tip, but it's one that's easy to forget especially if you're stressed, short on time, a little pissed off at your lover. But when you forget the shit that's in your head, focus on your lover (or yourself) and remember that it's supposed to fun, you're supposed to hear laughter, the body does make weird sounds, all of it... then you get to relish every second. 
---
---
What's bringing you pleasure, hottie? Drop a share in the comments below. 
slip into your pleasure zone
keep reading + find even more pleasure