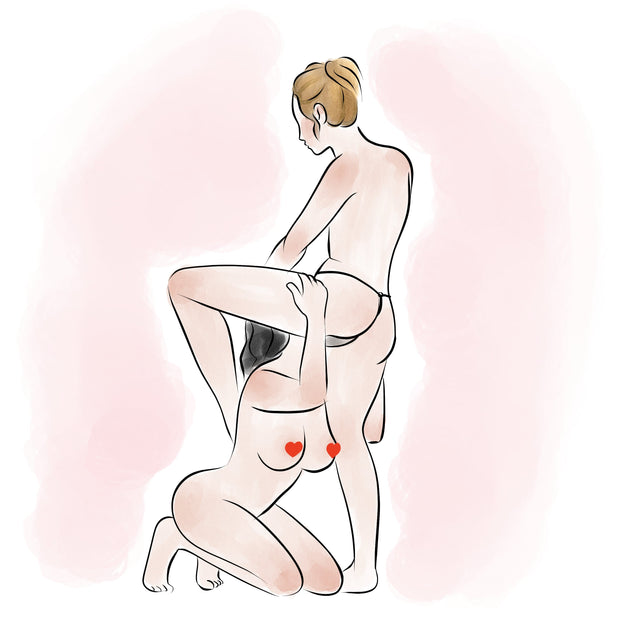 12 yummy sex positions to try wearing our fuckable luxury lingerie
find inspo for your best sex positions
ICYMI... all of our multiway luxury lingerie is named after the sex position we think it pairs brilliantly with (like a fine wine pairing but with silk, lace and juicy sex). Our rationale: When you look so fine in something, why not rock it for a while, tease your partner(s) or slow-strip if off instead of getting naked asap? Use these yummy sex positions — inspired by kama sutra and tantric sex — as suggestions, and if we missed any for future collections, let us know.
Lunatic Femme x sex positions
Best Sex Position: THE RIDER
Your Lunatic Femme lingerie:

A twist on the classic Reverse Cowgirl, the Rider position gives the option of touching silk and lace with your free hand or letting your partner unhook your bra while riding. Plus, can we talk about that view from behind?
If you love that collared look, pair this multi-way bra with our Butterfly Waist Cincher worn as a choker-necklace.

Best Sex Position: INQUISITOR
Because oral sex, like the inquisitor, is always in style.
Best Sex Position: THE BOA
Your Lunatic Femme lingerie:

We love that peek-a-boo mesh booty while you grind plus you can unlace the silk ties and secure your partner's wrists for extra tease. The snake-like element comes in when the rider wraps their legs around their partner's legs (pictured) or another twist is to have the receiver wrap their legs around the partner on top to control, guide and support the grind. Easy to execute, but not easy on the quad muscles.
Best Sex Position: THE OM
The Lunatic Femme piece:

This yoga-inspired, tantric-sex-ready position is the ultimate in slowing down, seizing the moment and boosting intimacy. Untie the removable lace silk tie to feather across your lover's skin, tie their ankles or wrists together, or tease them in whatever way your fantasies call to mind. Wear the removable, adjustable silk-covered elastic band through the ring (pictured) or un-loop it and wear as a waist band or on your neck as a collar.
Best Sex Position: THE TRIPOD variation
Your Lunatic Femme lingerie:

This quickie, oral-sex spin on The Tripod is designed for those spontaneous moments when you need to hustle to push aside the panties and get down (or up) to business, our whisper-light micro g-string is your ride or die.
Best Sex Position: CHAMPAGNE ROOM
Your Lunatic Femme lingerie:
We love a sex position that lets you drink an actual glass of champagne, show off your lingerie and fuck like mad all at the same time. Big shout out to the partner (and their abs) who can untie your silk laces while supporting this move.
Best Sex Position: DEJA VU
Your Lunatic Femme lingerie:
If you feel like you've been here before, just slip off the lingerie harness, use the neck straps as leg bands or remove the back straps for a completely new look, feel and moment.
Best Sex Position: DEJA VU
Your Lunatic Femme lingerie: 
A sex position so delicious we named two bodysuits after it... this infinitely fuckable style is cupless with detachable hip bands and lingerie harness for all types of styling and play. Remove the hip band, re-attach to themselves and wear as garter-style bands on upper thighs or warrior-style bands on upper arms.
Best Sex Position: BUTTERFLY
Your Lunatic Femme lingerie:
When you're DTF but not DTTake off your waist cincher, pick the position that lets you fuck hard and fashion harder.
Best Sex Position: SCORPION
Your Lunatic Femme lingerie:
It's always the ones that seem innocent with the sexiest bite. Don't believe us? Ask your favorite scorpio whose renowned sting we channeled for this style. We love this position if you're down for a little consensual choking or just to see if your partner can untie the Scorpion choker's silk ties with their teeth.
Best Sex Position: FLATIRON
Your Lunatic Femme lingerie:
Wear this playful lingerie harness one way to leave your back bare or style it "backward" to give your partner some silk straps to tickle over your skin. We love the leg harness straps styled right under the booty to highlight those assets.
Best Sex Position:  THE CHANDELIER
Your Lunatic Femme lingerie:
Keep your partner's hands busy while you hang back and do god's work on their holiest of regions. (Who knew a lingerie harness could be so spiritual?)
---
---
Got fave sex positions to wear with your lingerie? Drop them in the comments so we can style our next pieces after play time. 👇💋
more reading to inspire your best sex positions