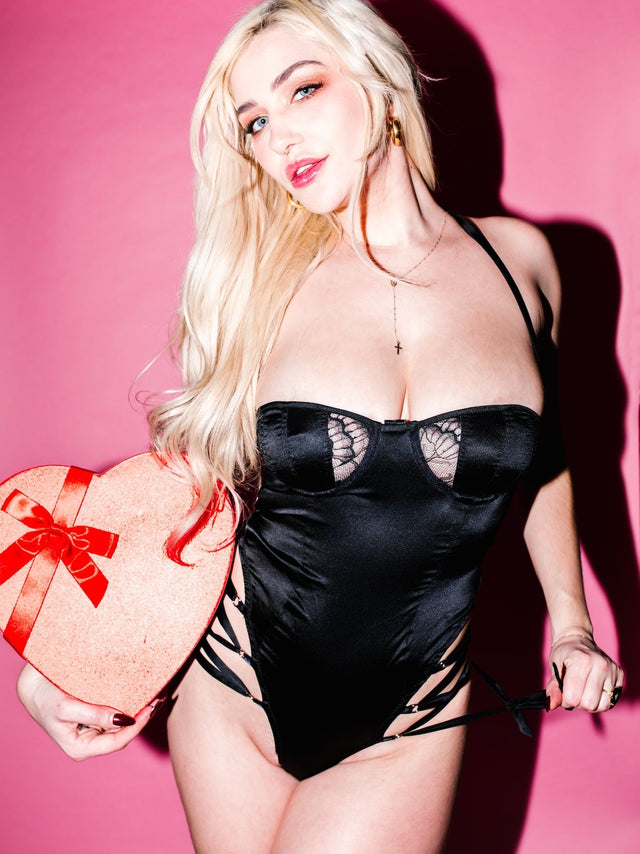 we all want roses + 10 other v day lies, myths and BS
gift yourself the freedom of letting these Valentine's Day myths go
We love the idea of love (and the reality for that matter) but the super-sized, made-for-social hype surrounding love's "most sacred" holiday... Valentine's Day? Not here for it. 
We've listed 10 little mindfucks, lies and propaganda that surrounds Valentine's Day just in case you finding yourself falling down the rabbit hole of gift buying, reservation making and expectation building... and need a little reality check instead.
That said, we hope you have the most deliciously naughty, relentlessly playful, sex- & self-love-filled Valentine's Day every damn day of 2023.
xxx
Myth: V-Day cards.  
We guarantee that whatever comes from your heart (or theirs) is just as meaningful if it's written on a mirror, scribbled on a sticky note, sent in a text or drawn onto your body with chocolate sauce. If you're solo, write yourself a juicy love note (and don't leave out all the hot things you're going to do that body of yours later). Seriously.
---
Myth: You're at the receiving end of the Cupid's arrow. 
Fuck Cupid. Shoot your shot. 
---
Myth: Wear red, it's sexy. 
Wear what makes you feel sexy, not what V-Day branding tells you is hot. And wear it for you, not them. Trust us, it's sexier when you're responding to how your body feels not someone else's gaze. 
---
Myth: You can't get a dinner reservation. 
You can. Especially if you steer clear of the commercialized "hot spots." Pro tip: Book February 13 instead. 
---
Myth: All couples are happy. 
Some are, some aren't. Don't let a fake holiday make you buy into the fairy tale. And if the "fairy tale" is on your bucket, make sure the storyline is authentically you.  

Myth: Damn that candy heart tastes good. 
Honestly, can we just send dirty texts instead? 
---
Myth: The size of the gift is the size of the love. 
Sure, take the ferrari if there's one with a bow parked outside your pad, but in most other cases, the size of the heart is the size of the love… and that means the gifts come with a different set of keys. 
---
Myth: Your partner knows [insert whatever is in your head that expect them to intuit or guess] 
Whatever you want, need, expect needs to be communicated if you want them, you and the relationship to win. 
---
Myth: It's time to get super freaky. 
Between all the lit candles, wine bottles that need opening and sex toys (or things that you're trying to make into a sex toy), statistics show V Day "romance" can up your odds of ending up in the ER. Novelty is hot but so is safety. Look for ways to spice things up without hanging from the chandelier. 
---
Myth: Any date is better than nothing. 
We'd like to counter that with any date with yourself is better than a meh night out with someone, doing something or hanging somewhere you're not that into. 
---
---
What are the other Valentine's Day myths you're busting this V Day?
yes, you do need new fuck-off lingerie this Valentine's Day
sexy reads just in time for Valentine's Day