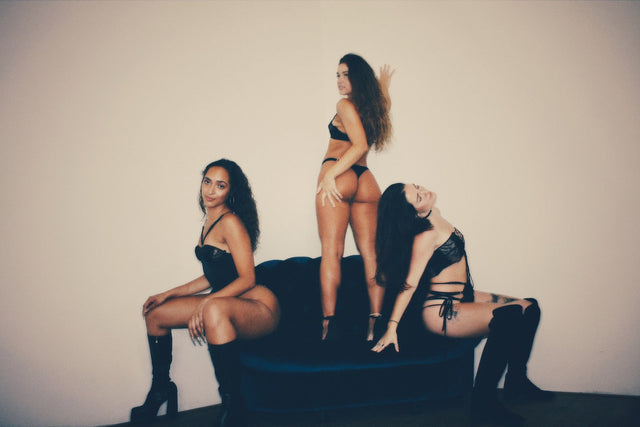 sexy lingerie sets + outfits for your hottest lingerie closet yet
stack your closet with the perfect lingerie sets + outfits
 Lingerie... it's not just for fucking anymore. It's for igniting, empowering, pleasuring, feasting, playing, exploring, revealing... That's why we believe you're not one thing and your lingerie shouldn't be either. And also why we love building, refreshing and evolving our bra, panty and lingerie closet every few months, rotating sets, accessories and pieces based on what's happening in our lives, what we're feeling and what we want to express. (We do it for weather seasons why not for sexual seasons?) It might sound daunting but when you start wearing styles that harness your power and channel your sexual, sensual and creative flow, you'll see how wearing your fiercest, sexiest, most feminine [insert your mood here] pieces, impacts how you show up for you internally and out in the world. The goal is to have a lingerie wardrobe that feels like you no matter how you're feeling. You'll also want go-to firestarters that shift you into that powerful state of flow just by slipping them on. How do you choose what lingerie sets and outfits to buy or rotate in/out of your collection? Let your body, your mood, your instincts tell you. We've got the playbook below for creating endless options and the perfect lingerie closet for you.
set the mood for play. 
Light candles, try a sexy new incense, turn on your lustiest playlist, do what only you know how to do to begin to ignite yourself.
---
organize your lingerie sets, outfits + playthings. 
Lay out your lingerie wardrobe and accessories, and then separate them into piles: pieces that feel like you and pieces that no longer work — they're damaged, they don't make you feel beautiful, they come with baggage you just can't shake. In the pieces that no longer work pile, throw out what's torn, stretched or worn beyond repair. Everything else can be donated, or if you love the piece but just aren't feeling it in this moment, rotate it out of your current wardrobe circulation.  
---
identify your most luxurious lingerie. 
Are there pieces you're saving for a person, place or event? Accessories you only wear when you're actually going to have sex? Styles you're too afraid, too shy, too [insert judgment here] to wear? Remind yourself that you're worth wearing your sexiest, most indulgent lingerie every day, especially in times when you want to slip into your sexual, sensual, creative flow in and out of the bedroom. Don't save channeling your highest vibes for that perfect moment. The perfect moment is the one where you are in your power and that moment can always be now. Use your lingerie to get you — and keep you — there.
---
Try on your other pieces. How does that g-string or thong panty make you feel? Confident? Sexy? Curious? Playful? Does that black bodysuit hug your curves in the fiercest way possible? Does the choker with the lace make you feel kinky? Do you feel more feminine in silk? Does the soft, smooth leather against your skin serve those warrior vibes? Or maybe they soften you a bit? Starting to notice how certain pieces, textures and embellishments turn you on and stir your mood can help you choose when and how to wear them.
---
explore new ways to wear 
lingerie sets you love
.
Key to staying sexually ignited is being curious, playful and creative. After your lingerie fashion show, if there are pieces you're obsessed with but they're just not feeling right, consider if you can wear them another way to re-spark that connection to them. For example, if you always wear your favorite black lace bra with its matching thong, can you switch out the panty for a g-string? A cheeky? A thong in a different fabric? Can you pair it with a lingerie harness, stockings, body jewelry? If you love a piece but just want to give it a break, pack it into a 'wear later' wardrobe box or hang in a special section of your closet to revisit in a few months.
experiment with how to show off your lingerie style.
With your current wardrobe, are there sets or pieces you can wear with a sheer top? Are the straps of a black lace bra so stunning you want them to peek out the shoulder of a top? Is your lingerie harness or collar-choker worthy of showcasing? Experimenting with new ways to wear what you have will help keep them in rotation and you in that sexy, sensual, creative flow state.
📸:@octaviatulip​​
---
consider what's missing in your lingerie wardrobe based on how it makes you feel.
Do you have that sexy black bodysuit that channels your fiercest queen energy? 


Do you have those ride-or-die panties that make your ass look irresistible? If you do, do you have a crotchless pair for those spontaneous sex drive-bys with your lover (or yourself)?


Do you love the way silk or lace feels against your waist? Add waist cinchers or garters to your lingerie closet to instantly turn on those feel-good vibes.



Does the feeling of handcuffs or restraints turn you on? Put 

sexy leather, lace or silk handcuffs

 in your arsenal to wear in bed and out in the world for all-day pleasure — and possibly a reminder of what's to come later in the day. 

Pro tip: some leather cock ring styles wrap gorgeously around wrists and double as bracelets.
Do you love that feeling of compression on your thighs, your curves, your ass? Add a sheer mesh or lace catsuit with stretch to your lingerie wardrobe for that wildly sexy look. Consider how you can top with a skirt or jogger in your own style.


Does that airy feel of satin or silk grazing against your skin light you up or turn on your most luscious femininity and orgasmic life? Trade a basic, sexless, cotton bathrobe for an everyday silky romper or sexy kimono to wear after hours, happy hours, all hours.


Do you love highlighting your long, sensual neck? Is light, consensual choking is part of your repertoire? Make sure a neck, waist or body harness or statement choker is in your rotation for bedroom play and outside-the-bedroom style whenever you want to stir that kinkier power mood.


Love wrapping your breasts in something silky? Showing off a little cleavage? Bustiers and corsets can play up your curves and add a little compression and lift if that's a feeling that works for your body. 
📸:@octaviatulip​​
---
improvise with lingerie you love or have always wanted to try. 
The key is getting rid of what doesn't make you feel your sexiest self and adding pieces that ignite you and your sexual fire. The key is stay curious, playful and creative.   
---
---
What lingerie sets, outfits or pieces are your ride or dies? How do they make you feel? Share in the comments below.
more multi-way lingerie sets coming in hot
because reading in your lingerie feels good...