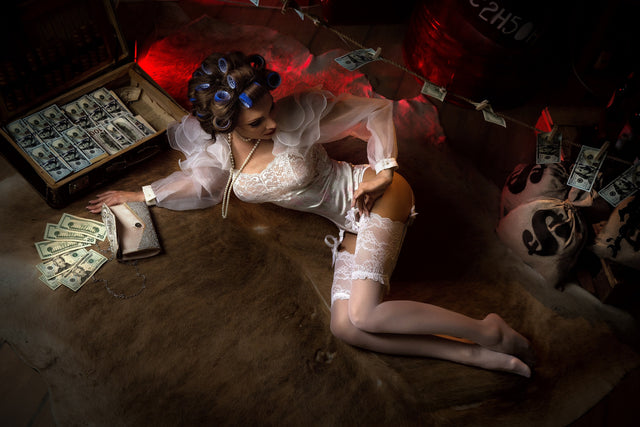 unsexy grown-ass-adult habits that keep your sexy flow state turned on
discover how sexy self-love habits feel
Sometimes the unsexiest habits can yield the sexiest results in your life. No one really likes making their bed every day, but what if it were a two-minute meditation that amps you up for success? Or, you can either dread working on your finances or you can look at it as an opportunity to feel in control. It's all about stoking the attitudes and the actions that keep your confidence high, empower your most passionate, successful self and keep that sexual and creative flow lit like a mofo.
Check out a few "unsexy" things you can do to turn on that juicy, energetic faucet and slip into your most powerful state of being.  
xxx
keeping your finances in check
Real queens know how much they have, how much is coming in and how to manage that flow. Taking care of yourself (and not relying on someone else or, worse, betting on chance, luck or divine intervention) is goddess material. 
locking down your future (stocks, crypto, savings plans)
Learn the language and energy of dollars so you can build your own safety net and nest egg. When you have that power and control over your money, you're not living at the whim of life or a partner.  
staying authentic
This means knowing your True North and sticking with it rather than agreeing to what doesn't work for you. 
keeping healthy boundaries
You know you, you know what you like, you know your worth, you know what you deserve... and you don't compromise when it feels out of alignment (no matter how many tricks their tongue can do or how many digits are on their bank balance). 
being a clear, nonviolent communicator
Learning to speak your POV — and being receptive to others' opinions — builds better relationships, makes sure you're heard and ensures you get what your sweet-ass wants (while making space for people you love to be different).  
pivoting, shifting, staying malleable when life tosses you what you didn't expect
It doesn't always matter how much $hit gets thrown your way, but rather how you respond. The more flexible and open you can stay, the more you can dance with life (and get the outcomes you desire).
lifting up other women 
There's something magical that happens when we're confident and compassionate enough to give, share, lift, compliment and support each other. Women get a bad rap (and rightly so) for being too competitive and tearing each other apart, but what if there is more than enough [abundance, success, beauty, accolades, passion, love, insert thing you want here] to go around? (P.S. there is.) Lift a sister up and you both shine. 
dressing like the queen you are 
Sure, there's the argument that fashion is superficial, then there's a counter-argument that how you present yourself to the world is a direct reflection of how you feel about yourself. Make sure you're leaving life with the impression you want to give.  
acting like you belong 
Have opinions, use your voice, express yourself and when you walk into the room, own it, knowing that you're worthy of every place, table and space you're in. 
staying informed 
How curious are you about where you live, what's out there to explore, what's happening in our world? Staying up on life helps you define where you want to be and how you can participate to your fullest. 
putting yourself first 
Selfless isn't sexy when you're starving. Do an assessment of your life and check in on areas where you might have lost your voice, given someone else your power, made yourself small or invisible so someone else could shine in the light. If your needs aren't be met and you aren't advocating for yourself, what can you do today to be seen, heard, felt, respected, adored in the way you deserve?
treating your body with respect 
You're in this skin for the long haul so how are you treating your mental, physical and emotional health? Do you move, play, discover, unpeel all the deliciousness that's you? Do your habits reflect how you want to feel about yourself? If they don't, find a coach, therapist or other pro who can help you reconnect, re-align and work through what's blocking you. 
nixing complaining
It's about more than creative a negative environment, complaining actually shrinks the size of your hippocampus, the part of your brain that's related to intelligence and critical thinking, according to Stanford University. Another study showed that the more you complain, the more you rewire your brain to keep up the habit, despite how great things are around you. Which, yeah, not so good for staying in a passionate, creative flow. 
switching out gossip to deeper conversations
The proverbial "They" will always tell you to surround yourself with the kind of people you aspire to be, those who will push you, challenge you, engage you, help you grow. Do you want to be the person who talks culture, curiosity, travel, finance, lust, love, passion or do you want to talk shit about your friends and neighbors? (Not to mention, gossip is a low-vibe habit and juicy life vibrates high.) 
drowning out the voices that aren't yours 
Confident women don't get bogged down by haters. Just don't do it. 
keeping your house clean 
Literally. Metaphors aside, we actually mean make your bed, de-clutter your space, organize your closets and free up the stagnant energy that can bog you down mentally, emotionally, creatively and sexually.  
---
---
What "basic" self-love habits keep your fire lit and flow state ignited? 👇💋
shop new lingerie infused with self-love
discover more self-love