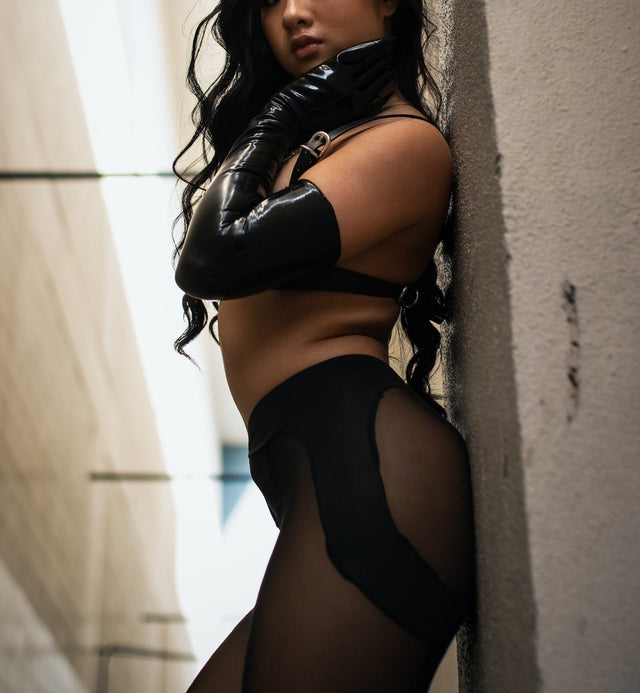 fuck party for 2: your sex date checklist, fuck buddy not included
make sure your sex date has a happy ending with our sexy playbook
When everything on your date agenda is optional except the sex, you can still ensure this sure things had some surprise, delight and fun. We've listed some things to pack (or have on hand, if you're staying in) to maximize pleasure and minimize the "oh fuck, I forgot"s.
xxx
sex date: prep
Prep a sexy playlist to set the mood — and by mood we mean, your mood — then stash a set of portable speakers for creating discreet ambiance wherever you are…. beaches, backyard, terrace, rooftop, car top, topless, you get the idea.
Think the freshest figs, the meltiest chocolates, the juiciest berries, oysters on the half shell…
update your cocktail cart 
While we're always down for whiskey, gin is a natural aphrodisiac and champagne is just sexy. Keep your bar stocked for seduction (of yourself or your fav lover).
gift yourself a pre-game soak
You don't need an excuse for a self-care spa moment, but if you did, a sex date is the perfect excuse. Add salts, oils, bubbles, scrubs, rose petals, the works. Sexy myth: legend has it that Aphrodite named the rose after her son Eros making it the sexiest, most erotic of flowers. Regardless, petals + bubbles + tub time shifts you into that pre-game mood.
prime your erotic engine
Whether it's muscular exertion, building up a sweat, snagging a Swedish massage, or the feeling of feathers tickling your skin, know your erotic trigger and get your sexy pre-game on.
prep your power source 
Yoni eggs harness the energetic power of crystals while also toning up those interior vag muscles. Or, if you want to feel seriously tighter and stronger, work some vaginal weights.
erotic ice cubes
Not just for sexing up cocktails anymore, sexy ice cubes, like these ready-to-play rosebuds, do double duty when used for temperature play. Fill them with edible flowers for drinks or body play.
sex date: pack
find a sex date fit that won't quit
We love a bodysuit that doubles for play and more play. Slip this date-night lingerie under your sexiest fit (if you're going out) or pack it for after-hours play. If you're surprising your lover, remove the harness and re-attach when you're ready to tease.
pack (or stash) some mini lube
Whet your appetite and theirs with these lube minis to go by Personal Fav. They're mini versions of Whet, their silky, plant-based, aphrodisiac-packed formula made to add some sexy glide to your ride. Sexy fact: These beauties fit into our Rider Balconette Bra for sexy portability.
don't forget the condoms
I mean, do we need an explanation? Consider this your reminder to not leave it to a penis to provide.
curate your accessories
Slip your fave playthings into your handbag liek mini sex toys like discreet vibes, floggers, feathers, beads, whatever fits your sex-date mood.
clean up on aisle 6…
When your lover leaves a "deposit", we love these insanely genius Dripsticks by Awkward Essentials that remove all messy, post-sex evidence that he was even there.
stash your playthings 
Our Threesome 3-Piece Play Pack discreetly (and luxuriously) holds your favorite date-night lingerie and gear from toys, lubes and condoms to your silkiest, sexiest lingerie sets. The largest size features detachable shibari-style ropes for securing your lover's wrists or ankles if they're game.
sex date: to-do list
sex toy buffet
If you're staying home, lay out some kinky toys and see what your fuck buddy is up for — it's a good opportunity to chat consent, boundaries, preferences…. even if they're a long-time lover.
role play
Do you usually take the lead? Do you always play the same roles? Switch it up. Your sex dates should be anything but routine.
book new sex digs
One of our fav sex-date aficionados books their hottest sex dates at the seediest (and, yes, cleanest), by-the-hour hotel featuring floor-to-ceiling (and ceiling) mirrors, plus tiles floors. It's high on thrills and 360-degree views so always worth the "splurge."
change up the rules
If you're sex dating with the same partner, keep it fresh by creating new rules to the game. Blindfolds only? Only lips with tied up hands? No lips, only hands? Do you take turns stripping off a piece of clothing to keep it insanely slow and luscious?
test-drive something from your bucket list
Sex dates are prime time for play. Is there a new sex position you've been stretching your hamstrings for? A tongue move your g-spot has been fantasizing about? Ask for what you want.
start out in the wild
A sex club, a sex party, cabaret, burlesque. Treat yourself to some voyeuristic pre-gaming to build up anticipation even more.
---
---
What sex date tips, tricks + techniques do you reco for a luscious date, night, weekend of pleasure? Drop your tips in the comments below.
shop these sex date sure things
sex date muses, inspo + toys
pssst... we may earn commission from some links on this page, but we only reco products we love. this comes at no additional cost to you.