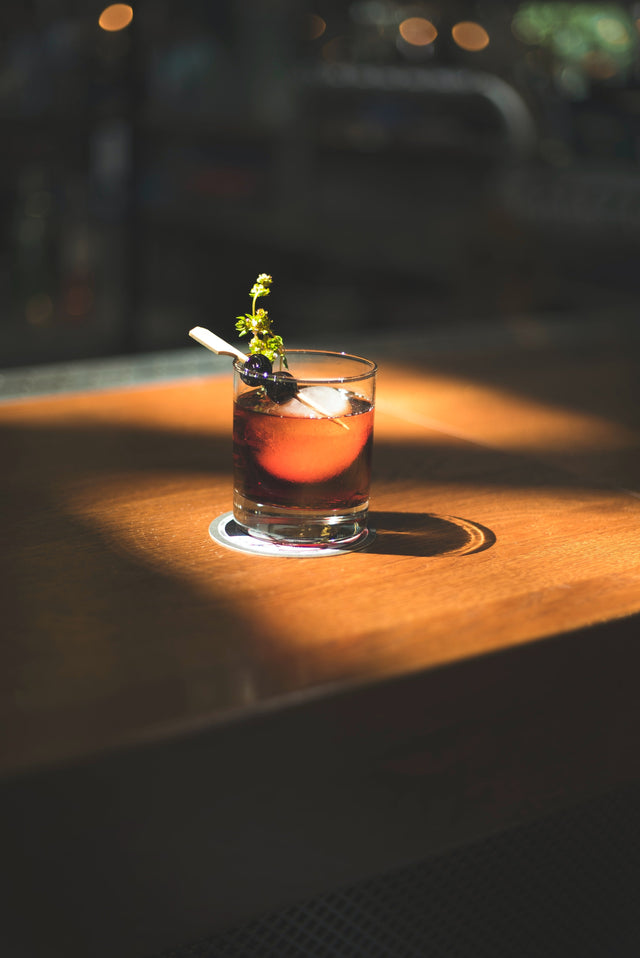 hot cocktails + spirits to try if you're looking to cheat on your signature drink
looking for hot cocktails to work into your rotation?
While we love a good Manhattan or classic martini (gin, of course), we occasionally crave something different, something edgier and off-radar to stretch our palate and keep life interesting. After hitting several of the best speakeasies in NYC and chatting up our favorite bartenders, we quite literally stumbled upon some hot cocktails of the moment. Hope these spirits give you a little inspo for your own creations or nights out... 
xxx
sweet vermouth  
For those times when you ditch work early and have a long night ahead, you want to start slow and cruise gently into your evening, cue the sweet vermouth. It's low in alcohol and very of the moment, with beverage directors hunting for more off-radar artisanal brands like Atsby, Method Spirits or wine maker Macari who's making its own seasonal vermouths. A little cocktail trivia: Its name is derived from "wermut," aka wormwood, one of the main bittering components. Not all vermouths contain wormwood; some contain quinine like you'd find in sparkling tonic water. For those spirits connoisseurs and the-out-all-night-crowd who tend to perfect more sophisticated, balanced flavors versus sweet, a vermouth and tonic is the perfect way to kick things off thanks to its perfect blend of sweetness, complexity and a hit of bitterness from the tonic. If you like your vermouth straight up, we're still loving the classics: Carpano's Antica Formula and Punt Es Mes, which sub in nicely in vieux carres and rob roys.  
---
Japanese whiskey 
When you're ready to dial things up a notch, a Japanese Highball is one of those high-maintenance drinks that thinks it's low maintenance. With just two ingredients — Japanese whiskey and soda — don't be misled by the simplicity of the recipe. Unlike your run-of-the-mill whiskey soda, this version serves to enhance the distinct flavors of the whiskey rather than dilute them. Its emphasis on integrity and perfection is reminiscent of a Zen experience, complete with a mindfulness exercise (whiskey is stirred on ice precisely 13 times before adding soda then another 3 times to integrate OR 30 seconds if you're not into counting stirs). Ask for high-caliber or top-shelf whiskeys, like Iwai, Nikka or White Oak, or let your hot bartender at Katana Kitten in the Village choose their favorite. If you're making your own at home, pair it with artisanal mineral waters or soda brands like Fever Tree. 
---
scotch 
Scotch cocktails aren't new but it's one of the categories that's seeing the sexiest innovation, like the Nightwatch we found at Garfunkel's, a blend of scotch, tequila, pear eau de vie, honey and fresh lemon juice, shaken and served on the rocks, sour style. Fun fact about scotch... less-aged batches are very en vogue right now — the opposite of what we're accustomed to — that's because you taste less oak and more of the terroir of Scotland, the mineralogy of the water and whatever peat is around at the time of production. In that case you might want to try a classic like Bobby Burns, perfect when you feel like waxing poetic. Made with scotch, sweet vermouth and Bénédictine, this is a hot cocktail right now especially when you ask for it with Wolfburn, Highland Park or Old Pulteney. Or, if you're a purist, start and end the night with a scotch neat.
 
mezcal 
We've seen a lot of mezcals these last few years, but tequila is really having a resurgence… again. Sure, we like a well-made paloma in the summer — ask for it with some ginger to zhuzh it up — but the emergence of specialty tequilas has been giving mixologists a lot more inspiration to play with. Like Old Fashioneds? Try it with tequila instead, or a tequila negroni in lieu of gin, or mixed with another spirit… you get the picture. We're also loving a Tequila Last Word, made with green chartreuse, maraschino liqueur and lime juice. For something up, a 50/50 tequila with dry vermouth and orange bitters is always sexy as hell. Whether you're having a reposado, blanco, añejo, or joven, the possibilities are endless and a bloody maria for the morning after your night of hot cocktails is just what the doctor ordered.  What are some off-radar cocktails or spirits you're loving?
---
---
What hot cocktails + spirits are on your must-try list? 
garnish your hottest cocktails with luxury lingerie