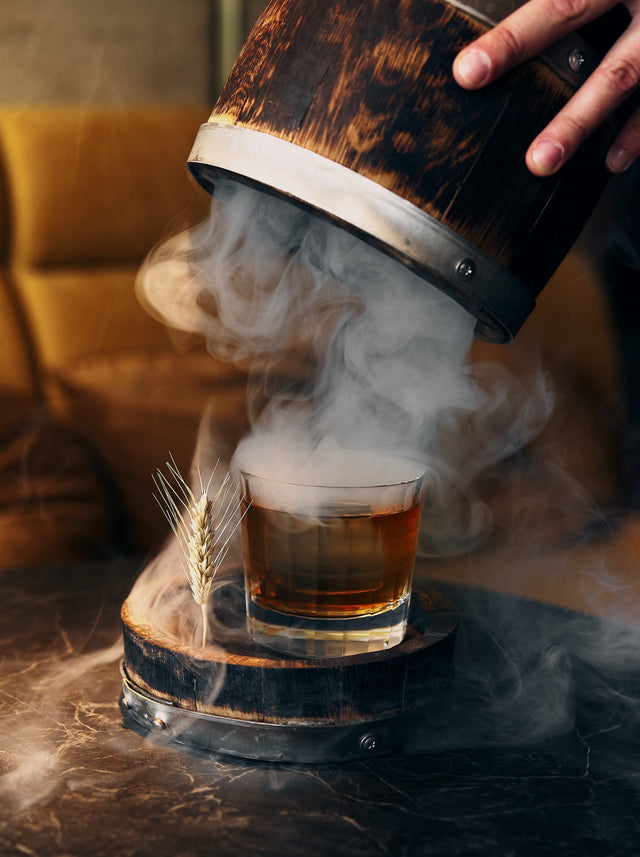 looking for the best speakeasies in NYC that don't have waitlists or make you crawl through a sidewalk grate? here's 5 we love
the best speakeasies (read: sexiest) in nyc
We love a good speakeasy, but we don't love the secret passwords, underground tunneling and lengthy notarized list of rules that sometimes come with it. If you're looking for spots that are worth the hype without the hassle, check out five of the best speakeasies in NYC we're obsessed with right now. They've oozing with PhD-level mixology, vintage micro-glasses and plush bygone-era seating without an underground tunnel or vodka-anything in sight. And if you really want to use a secret password, you do you.
Pour yourself a scotch neat, slip into your favorite silk kimono and read on. 
xxx
 
I. Apotheke
First up, Apotheke. Yep, it's been around for a bit (read: more than a decade) and we've probably bumped into each other in the bathroom line. It landed on our list of best speakeasies in NYC because Two Bridges — located in the shadows of the Manhattan and Brooklyn Bridges and where Chinatown and The Lower East Side collide — is having a moment. ICYMI, rents went waaay down during the pandemic and a group of artists and the people who love them deemed this the new It neighborhood to call home. Cue the impossible-to-get-into restaurants, charming boutiques and vintage record shops, but props to Apotheke, one of the OG's of the block. Like any good mixology joint, they're into fresh juices and farmer's market herbs, but our fave Apotheke side hustle is The Academy, where their pros teach you to mix your own cocktails. Sign us up.


II. The Little Shop
FiDi has also seen quite the resurgence in sexy bars and restaurants… enter The Little Shop. Like any covetable, hot new thing, it's unassuming and doesn't make you trek above 14th. Disguised as a simple bodega on the edge of Front Street, this little hideaway is actually a — erm, front — for this modern, sultry speakeasy. It checks all the boxes: excellent wallpaper, delicate barware and plates, ultra-low seating and fringed table lamps for that true Prohibition feel. They've got classic cocktails like pisco sours or old fashioneds, plus twists on classics, like the mezcal negroni, as well as charcuterie board and other bites to balance out all the high-proof spirits. 
---
III. Garfunkel's
Slip through the bank vault door above The Burgary and you've made it to Garfunkel's. Originally a bank, private bankers turned criminal fugitives used this hotspot for [insert nefarious deed here]. Once inside "the vault" you'll feel the ghosts of F. Scott and Zelda Fitzgerald, or possibly the absinthe, as you're guided through low, tin ceilings to plush, velvet couches and luxe, tufted arm chairs. Their list of cocktails is as impressive as their backstory but we're especially enamored with the Nightwatch, a sour-styled scotch and tequila number served shaken and on the rocks. Undecided? Your bartender will whip up a custom drink based on your mood. Reservations required and the dress code is dressy-casual which for NYers means, bring game. Yet another reason we've named this one of the best speakeasies in NYC.
---
IV. The Hidden Pearl
While not technically in "The City," we added this Greenpoint gem to our best speakeasies in NYC list because it's worth it. The Hidden Pearl is an elevated Japanese cocktail and small plate "journey in search of tropical Japan." Tucked away in the back of Wanpaku, the space is light and airy unlike traditional speakeasies, giving a fresh and luminescent vibe. (In other words, make this your first stop of the night, not your last.) Sake, Japanese whiskeys and miso-infused bourbons abound, as do crushed iced and coconut cream-based nectars.

 
 V. Fig 19
Finally, Fig 19 is an LES stand out, where all cocktails are $16, a price that's definitely a throwback to another era. (And don't let the low prices scare you, the drinks are legit.) A blink-or-you'll-miss-it door at the back of their striking, all-white gallery leads you to a louche atmosphere, similarly adorned with art. In the mood for gin, but tired of an aviation? How about a Rose Selave made with rose syrup, cucumber and lemon or The Vanishing Point made with vanilla- and cinnamon-infused gin, egg white, agave and lime. If you're in the mood for something harder, test-drive The Learner, made with rye, cognac, averna, sweet vermouth and hopped grapefruit bitters. 
---
---
If these best speakeasies in NYC aren't doing it for you, hit us with the ones you love. 
shop luxury lingerie, ready for your speakeasy moments
more sexy cocktail reads