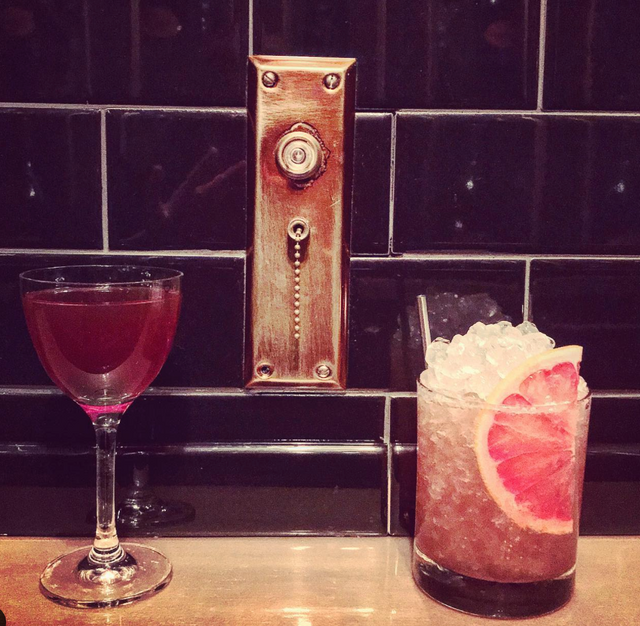 meet nyc bartender meaghan dorman: bar magician, mentor, memory maker
nyc bartender meaghan dorman knows how to set the mood
Sometimes you can't wait for a mood to strike, you have to create it. Enter Meaghan Dorman, bar director at Raines Law Room and Dear Irving, two of Manhattan's sexiest drinking dens where she's curates unparalleled menus, ambiance and experiences. (We don't have the exact scientific data but we're willing to bet she's responsible for more love connections than most dating apps.) While we're obsessed with her unmatched creativity and cocktail-slinging skills, we love that she champions and educates other women in the industry. We tapped this "curator of bar magic" for insights on how to lubricate a mood and create unforgettable, foreplay-approved drinks at home. Happy sipping. 
xxx
Meaghan Dorman handcrafting the sexiest sips in Manhattan. 📸: Sheldrick Pelt
You're known for creating unparalleled, insanely creative cocktails in some of the sexiest venues in nyc, how do you keep that fire lit in you? 
meaghan dorman: 
Creativity for me ebbs and flows so I carve out time to experiment with drinks when it's really flowing and give myself some space when it's not. I also am always listening to feedback from guests, like what drinks go over really well or sometimes when they have a request that we don't have a great answer to, it sends me to the drawing board so to speak.   
---
If we're looking to create a lusty, lingering cocktailing experience at home, what would you recommend?  
meaghan dorman: 
I think the best start to a romantic night is a split (375 ml) bottle of a nice, rich champagne like Krug or Ruinart. It's just a little more than a glass so not an all night commitment but what a start! Then it's time for more of a sipping style cocktail, one to linger over and let the night start to flow. My favorite is a Boulevardier — just 3 simple ingredients (bourbon, Campari, sweet vermouth with an orange twist), so not too intimidating to make for home.   
---
Cocktail making is inherently seductive — maybe because it teases all of our senses — what are your go-to drinks that are one big seductive tease? 
meaghan dorman: 
I think aromatics are essential for a memorable cocktails. So much of what we taste is what we smell. I made a drink called the Pearl Collins at Dear Irving and the combination of jasmine and mint make it so bright but also alluring. Orange blossom water is also used often in cocktails, or a spritz of Islay scotch for some earthy smoke.
 
Vintage glassware ups your at-home bar game. 📸: @gingerrickey
What cocktails or spirits are your favorite conversation pieces or conversation starters?
meaghan dorman:
I love to ask people what their college-era drink of choice was — it's a fun way to break the ice and see how taste changes. Also drinking is often a big part of traveling, so having something like an Aperol Spritz or sipping some Japanese whiskey can be quite transportive.
---
You describe yourself as a "curator of bar magic," which is true (and humble), any tips or tricks for people wanting to create bar magic at home?
meaghan dorman: 
Yes! So while the drinks are a big part of it, it's also setting everything up so that there is room for magic! That means lighting is ready, you have matches ready for the candles, plenty of ice, a great playlist you don't have to go searching for (also put your phone on Do Not Disturb!). You want to set yourself up so there is no extra stress and everyone can truly relax and be present. I advise people to have a few drinks options at home BUT not too many. You can easily just end up working all night if you try to make every drink under the sun. A martini, Manhattan, French 75, margarita (with fresh citrus!) will make almost anyone happy.
 
Just another Saturday night pre-game for Meaghan Dorman. 📸: @gingerrickey
For those who use their kitchen only for takeout ;), what are your fave cocktails that look super sexy and impressive, taste flavorful, but are simple to execute?
meaghan dorman: 
There are many spirit-forward (no citrus) drinks that can be batched and kept in the fridge so you can have a Negroni on hand anytime! Because spirits don't spoil and will preserve elements like the vermouth, you can always have something chilled and ready to pour. I also LOVE a Spanish-style G&T, which means keeping nice tonic on hand (like Fever Tree), a nice gin like Fords or Tanqueray 10, and some fresh citrus or herbs to garnish. The style means you build in a wineglass over ice and while it's a simple gin and tonic, it's all about garnish. You can really add your own flair, like rosemary, mint, but definitely some lime or lemon slices, too. Having nice glassware will elevate any simple drink or glass of wine to feeling like a true date night.
 
Pro tip: Small-batch Meaghan's Negroni cocktail to lubricate your mood instantly
You're at the top of your game in a city that's always at the top of its game — as a bar director, as a bartender, as an educator, as a mentor to women in the industry — what are you most proud of?
meaghan dorman:
When I'm at the bar, just in the background and I see the team really engaged with folks and making that bar magic happen I know it will live on in other venues as they work here but also move on. Better drinks for more people makes me happy, and I'm really proud of so many of the staff that worked with me the past 12 years and how they put their own spin on service. I also am heart-warmed every time a couple comes back to one of the bars for anniversary or engagement because their first date was there. It is the bar magic coming back to us!
---
After a signature night of Meaghan Dorman cocktailing, what's your favorite way to rebound?
meaghan dorman:
Grilled cheese on rye and canned Pepsi!
---
Last q: how do you squeeze in pleasure + what do you do for yourself?
meaghan dorman: 
I love Pilates, it's a great way to rebound from working on my feet but also feel stronger going back. I am also love a beach walk off-season, when the air is crisp and refreshing. Followed by finding a bar of course! 
---
---
Try Meaghan's cocktail recos above to inspire your inner bartender and let us know what you love. 👇💋
bartender tip: garnish your drink with some luxury lingerie
sip your drink with these sexy reads