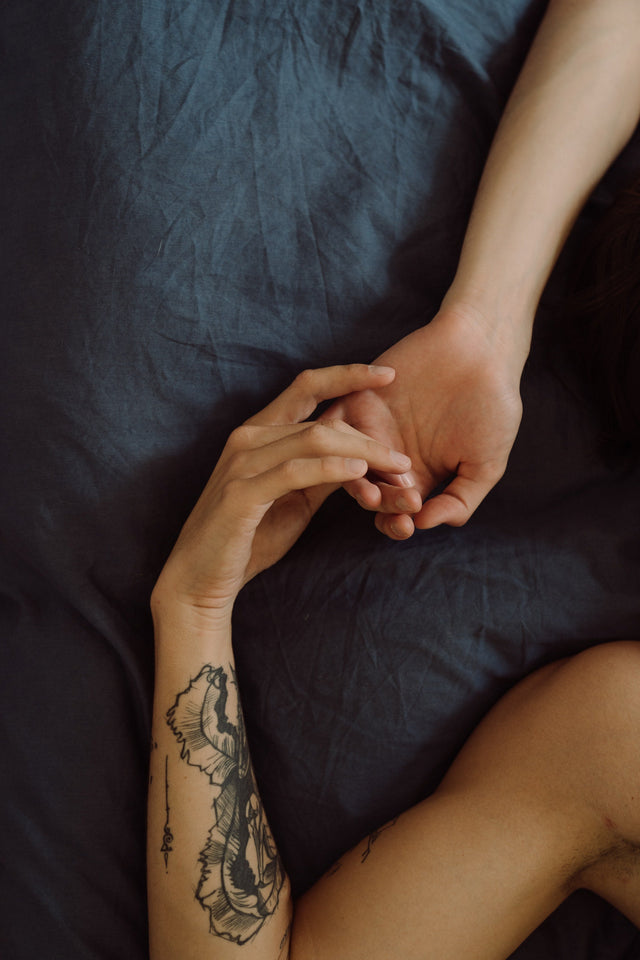 how to sex up your bedroom: 13 ways to make your space more fvck-ready.
sexy bedroom ideas that beg you to stay in bed
When work, life and pleasure all seem to converge in one space, it's easy for the lines to get blurred. Problem is that all those non-pleasure piles — workout equipment, devices, laundry — can be a distraction and instant mood-killer. Instead, set your bedroom up for sexy success (sex-cess...?) with a few decor tweaks that get you in that lustful mood that's ripe for fun on demand. 
xxx
Use strategically yummy pillows.
 
Keeping a variety of sizes, shapes and plushness from decorative to body-size, ensures you can always wrap, wedge or spoon yourself into pleasure. (Make sure at least one of them is sturdy enough to prop up your pelvis.)
---

Showcase an accessory.
 
If you've got a luxury sex toy that doesn't deserve to be hidden in your nightstand — that Swarovski-studded crop, a gilded bondage set, a gold dildo, even a fvck off pair of thigh highs — give that baby a spotlight. 
Set up a massage tutorial on your TV, computer or tablet.

Giving your lover a massage might feel intimidating if you're not a pro. Having a few tutorials ready to go can help you both learn together. (And while you've got them in your hands, it's the perfect time to test-drive some naughty lingo.) 
---
Have some porn on tap.

If you're into it, don't make yourself have to hunt it down. Keep your faves a click away... and update them often (curiosity keeps things hottt).
---
Having your sexiest, skimpiest bras, corsets, bustiers and bodysuits organized and easily to nab keeps your fingers and body inspired and ready for pleasure. 
---
Keep some coffee table erotica in view.
 
Nothing like flipping through Helmut Newton's work or anything from David Lachapelle to arouse the eyes, the mind, the body.  
---
Put on sheets that match your mood. 
A silky white set might feel perfectly fuckable for a Sunday morning, but pussy red satin or plush black flannel might feel yummy for a Friday night. Play to what fires up your skin and senses. 
---
Prep unique playlists around your different sexual moods. 
 Some moments you might feel romantic, others maybe more playful, shy, aggressive or demanding. Matching music to your mood helps ignite you when you need a spark, fire up your confidence, get your lustiness more lustful and lubricate your body movement. 
---
Create a candlelit ambiance.

You don't need a special occasion (or a date for sex) to create the mood for one. Think all sizes and shapes from tea lights to cylinders with tall candles so the visual feast dancing on the walls, your body, your bed, even if you're just reading a book. Throw a massage candle in the mix for solo or partnered up exploration. 
---
Toss in faux fur touches.

Blankets, throws, pillow covers, a chair with a fur rug throw over it... adding plush texture for fingers, legs and arms to linger in keeps you deliciously in the moment. 
---
Keep your day job outta bed.

You can't make a fuck bed out of spreadsheets (well, you can, but think of the papercuts). And since you want your head in the game for lust, not work, keep your office out (your work computer, the cords, the books) and your libido in and on. 
---

Use mirrors and their angles.

On one extreme, you've got the full-on mirrored ceilings, that's probably not necessary. A floor-length mirror in a corner or a walk-in closet that lets you sneak peeks at your nakedness and theirs throughout the day comes in handy when foreplay kicks in.  
---
---
 What are your favorite ways to create a sexy bedroom? Hit us 👇💋
luxury lingerie made for a sexy bedroom
sexy bedroom readings