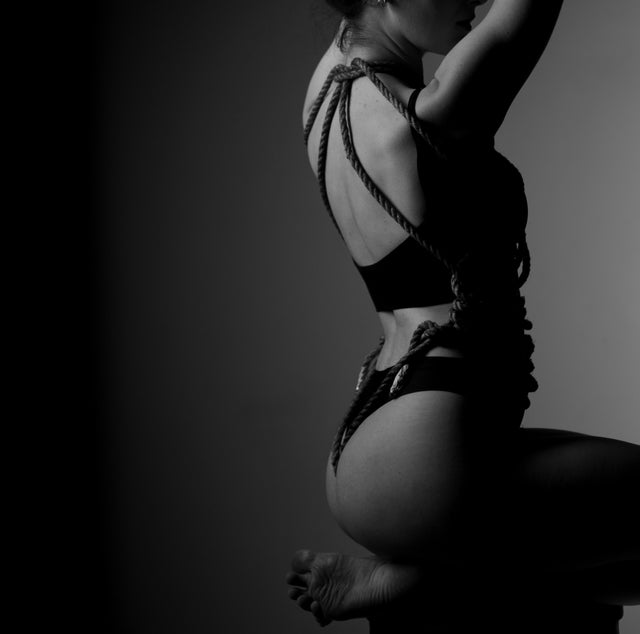 domme-sexologist Nadège on bondage sex: benefits, tips, how to perform
update your bucket list with bondage sex
When we knew we wanted to do a story on bondage sex we went to one of our favorite sources of erotic pleasure: Dominatrix-turned-sex-scholar, Nadège, whose sexual wellness brand and coaching practice has been empowering sex lives since 2019. Here she talks all things bondage sex from the secret ways it can heal you to pro tips on ways to play.
Through her Pleasure Science platform, this self-proclaimed sex nerd offers an array of ways to boost your skills beyond bondage sex, heal from trauma or just amp up your erotic brain power. Start with her 60-Day Sex Breakthrough program, book a coaching session or follow her on Instagram and TikTok for news, tips, sex research, events and more. 
In the meantime, get a taste of her brains-meets-bondage style here. Happy reading (and restraining).
xxx
📸: Nadége Collot
What are some surprising aspects of bondage sex that most people don't know?
Nadège:
I think how healing it can be. That's something that really seems to surprise people. It can be so intimidating when we think of BDSM, and I think it can be so easily thought of as either a spectacle or something that's going to be really, really intense. And what can surprise people is how it can be very soothing, it can be very healing, and it's not always some big elaborate spectacle-style sexual experience. Sometimes it's really like, "Let's play with handcuffs in the bedroom. Let's try a blindfold." And adding these tools can help us connect to our bodies, practice talking more. So I think just that element of how it can be healing and be way more low-key than people realize.
---
So when you say healing, you don't mean it has to be that you've had a sexual trauma and this is how you're playing it out. It could just be like you said, something as easy as, this is helping me talk more or be more intimate with my own body?
Nadège:
Absolutely. Honestly, both. Because sometimes you can do something in BDSM and have a major breakthrough. You could have just been playing with your person, your spouse, your lover, whatever the connection is. And maybe you're playing out some vampire fantasy or something, and you can actually heal something pretty big through just play. Play can be a lot more healing than we give it credit for. But then also exactly what you said, sometimes it can be these simple little things like, "Oh, it helps me have way less anxiety if I'm blindfolded. I didn't know that before."
You only know when you try. And so it can be really healing in much smaller ways too of, "Oh, I'm learning to communicate. I'm learning how to keep my body relaxed," and all of that kind of stuff as well.
---
What should we have on hand to feel extra safe?
Nadège:
If you're going to be playing with ropes, always have a very sturdy pair of scissors nearby, because cutting circulation, you may not feel it right away, but sometimes you really just need to quickly get out of something. There's something called bondage tape, which you can buy at local sex toy stores, and that's a really fun thing to play with. And most scissors can cut through that.
If you're going to actually play with rope, make sure you have the type of scissors that can cut through rope because it's super fun to play with being restrained and you should be able to get out as easily as possible if or when you need to. And then other than that, I would say try not to use household items. Don't make your own nipple clamps. And people do, but I would stay away from that because sex toys are designed to be used on a body, and household tools are not designed to be used on a body. And take it slow. You're in no rush, only your hurry, so you don't need to experience everything as soon as possible. I feel like sometimes people feel like they have to be extremely knowledgeable, and so they're going to try and rush through their own sexual learning experiences. And the best things we can do is take it slow, especially with BDSM.
---
That leads perfectly to my next questions, what are some ways to take it slow but still feel sexy, playful and in flow?
Nadège:
Absolutely. I'd say the first thing is a mindset shift of redefining foreplay as any type of play or flirtation that happens before sex. And so I always like to think of it as the moment a sexual experience ends, foreplay begins, and that can kind of really change the mindset and help you take things slow because then you can realize, "Ooh, voice notes. Sending sexy voice notes is a little flirty foreplay and giving my lover a massage is foreplay." And when we shift to this mindset of foreplay are all the ways that we do little fun things for each other that lead up to sex, you can drag things out. And then also realize you can have intimacy without the expectation for sex always to happen, which can alleviate a lot of pressure and also help with taking things slow and it can help make it more normal to talk about sex.
Like you had just said, "What if it doesn't feel sexy to ask questions?" I think when you're in the moment having sex, sometimes it doesn't feel as sexy to check in and ask questions. But if you shift them from a mindset of, "We're going to have play and foreplay for as long as it takes until the next sexual situation builds and we want that release," you can also incorporate conversation and questions and all types of things into the mix because the best time to talk about the sex that you're having is usually before you have sex. It's not during and it's not after.
Which doesn't mean we shouldn't check in with people and say like, "Oh, is this too hard, too soft? Do you want water?" Things like that. But in terms of actual conversations and sexual feedback, those conversations are better to have before the next time you have sex, but not necessarily when you're being sexual.
---
And I love what you said about dragging out foreplay all day-
Nadège:
Yeah, or all week.
Sometimes we're busy, but that doesn't mean that we can't be intimate. Yeah, foreplay can last a week. There have been times where I'm busy with work, but that doesn't mean that me and my lover don't get to have intimacy until we get to see each other again.
---
"What erotic personalities do you have? What hasn't been given a chance to play yet? Being an adult, I feel like sometimes it's giving ourselves permission to be your horny 15-year-old self again. What would that person want to do? You can do that now."
---
If you've already got bondage in your repertoire, what are some fun ways to keep it exciting?
Nadège:
Well, I would say role play. If you already have a bit of bondage, you know how to use all of the little toys, or most of the toys. Then stepping into different roles and scenarios and figuring out what personalities ... What erotic personalities do you have? What hasn't been given a chance to play yet? Being an adult, I feel like sometimes it's giving ourselves permission to be your horny 15-year-old self again. What would that person want to do? You can do that now. You can do whatever you want. So I would say role play.
---
It's so funny because I think when we hear the word "play" as adults, it can be associated with immaturity, but how exhilarating is it to actually laugh during sex?
Nadège:
And sex is funny. It's a really funny thing. I mean, think of all the times people fart or queef or laugh or whatever. Sex is a funny thing. We should make it normal to have a laugh together.
---
I love that. So what are some safe ways to explore new boundaries or discover new parts of yourself, for both beginners and pros?
Nadège:
The first thing I would do is go online and download a "yes, no, maybe list." You might also might have to look up "sex yes, no, maybe list", or "BDSM yes, no, maybe list" to make sure you get the right one and don't get some random business list. But once you have a list like that, that's really great because it gives you a foundation of things. It's almost like you and your partner get to sit down and fill out a sexy questionnaire and you get to download this list and be like, "Okay, anal beads. Yes, no, maybe. Role-play. Yes, no, maybe. Spooning naked. Yes, no, maybe." And seeing all of these things. 
So if you're a beginner, that right there can give you a great foundation of new things to look up, new things to consider. And it helps you figure out what your boundaries are, listen to your body when you go through this list. And if you feel nervous or anxious, your body seizes up, you're like, "Oh, that's what 'no' feels like. Did I know that before? Yes, I'm really excited to try that. That's what 'yes' feels like."
And so that's another great reason why this tool is so powerful, is because it can teach people, whether they're new lovers or old long-term lovers trying something new. It's also a way to help communicate with each other. And oftentimes when we have a tool, especially when we're talking about sex, it really, really helps soothe the nervous system and open you up with these type of things. So I would download the yes, no, maybe list. Go through that with your partner. If you're nervous with that, go through it by yourself first and then download a new one and go through that with your partner, so that way you can also check in with yourself about that kind of thing.
And then from there, establish a safe word check-in system. My favorite one is the red light system, where you have green, yellow, red. So basically after the "yes, no, maybe list" and you decide, Okay, we're going to try blindfolded anal sex. That sounds fun."
At that point, establish, "Okay, so we'll ask this question with each other. What do you look and sound like when you're struggling during sex? What do you look and sound like when you're having a good time?" So that'll help each other kind of figure out, for example, if someone's going to be blindfolded, the person doing the blindfolding, who'd have a better observational view during sex, would be like, "Oh, my partner said that she seizes up and gets really quiet when she's not having a good time. So I now know to notice that and check in and be like, "Oh, hey, are you a yellow?" Which means, "Check in with me, but you don't need to stop." Red means, "Stop. Playtime is over. Let's check in. Let's watch a movie. Let's shift out of a sexual erotic space." And then green means, "Oh, I'm fine. I'm actually having a good time. Let's keep going."
And so what I love about "yes, no, maybe lists", asking those questions and then establishing these safe word systems is one, you're already practicing communication by using the two other tools. And then by the time you get to the safe words, you also are like, "Okay, now I have a better understanding of what you look and sound like when you're not having a good time or when you are. I know more or less what you like. So you said it's a hard no on spanking. I know when you're blindfolded, I'm not going to spank you." So we have this great foundation and then on top of it, I know to check in.
And what I like using with this color system is instead of in the middle of sex being like, "I'm going to check in. What color are you?" Because that can also feel a little weird. I just like saying, "What color are you?" Or, "How are your colors?" Or something like that. Because avoiding any other language, it kind of soothes it out. And then it gives the other person an opportunity to be like, "Oh, green. Actually, you know what? I'm feeling a little yellow." And be like, "Okay, what's going on?" "I just think I need water." And things like that. And it gives you that little opener.
---
Yeah, it's so much better than sitting there looking at your partner's face and wondering, "What is going on? Why are they so quiet?" Or, "What's this about?"
Nadège:
Oh, totally. When I'm having a good time, I have a very serious face. It's really funny. So I learned that about myself and it's really helpful. Because now if I'm with a new partner or at a sex party and I'm with someone, I can be like, "Oh, if I look really serious and my brow is all wrinkled, I'm actually having a good time and keep going. But you can also ask what color I am. And I'll probably tell you green or yellow if I need water."
---
That's so good.
Nadège:
Yeah, no, those systems are really helpful. And it's okay if obviously someone asks you and you're like, "I don't know what I look like," because you're not probably looking at yourself. It's knowledge you discover over time. So if you don't know, that's good too, because by just asking the question, you've now made it front of mind and the next time you're erotic with your lover, you guys can start to figure that out.
---
"... power is sexy, and power dynamics are sexy, and power dynamics happen in relationships and in the bedroom. And so a lot of people may not realize that they have fetishes, kinks, or could be in a situation, because it's very diverse and it's so much simpler than most people realize."
---
And the other thing I was going to ask you about with the "yes, no, maybe" checklist… do you find that people are surprised by some of the things that are considered BDSM? Someone might not consider themselves kinky, but the checklist suggests otherwise…
Nadège:
I feel like most people are. Most people have no idea how nonchalant kink can be, especially because a lot of what kink is is the eroticization of power. And power is sexy, and power dynamics are sexy, and power dynamics happen in relationships and in the bedroom. And so a lot of people may not realize that they have fetishes, kinks, or could be in a situation, because it's very diverse and it's so much simpler than most people realize.
Even me as someone who trains to be a dominatrix and certainly identifies as kinky in my personal life, a lot of the kinky sex I have is usually just in my bedroom with my lover. Maybe we use handcuffs. It's not like no one's in outfits, we're not roleplaying, he's not calling me a different name. It's just so much simpler. Or sometimes it's an energetic thing, not even using toys, but just there's an energy there. It can be so much simpler.
---
When you say "energy," do you mean edging or just, "I might do that"?
Nadège:
Edging or even just the energetically submitting to someone else, letting the other person be the alpha for that interaction, which isn't always a conscious thing.
You could be with someone and usually you're the one who's more of an alpha and they're following your lead. Boom. You're kind of in a kinky dynamic sexually, and you maybe didn't even realize that. And that just the organic natural energies that you two think into and activate in each other have to do with power exchanges and someone being dominant, someone being submissive.
Also, there are some couples that I work with where they're very wrestle-y in the way that they flirt and initiate sex with each other. And when I hear these stories, I'm like, "That's also pretty kinky," like wrestling each other, roughhousing. There's so many ways. And I think that by people just giving themselves permission to be kind of their animal self, those aspects come out. And it doesn't have to be very planned, and it doesn't have to have an elaborate outfit or story. Also though, it can, and what a pleasure. What an amazing thing that we as adults get to explore for ourselves.
---
I love that. I love that animal self idea, too. That's so smart.
Nadège:
Oh yeah. For long-term couples who are having trouble with intimacy, it actually is something that a psychologist friend of mine, he was like, "I was recommending this with an older couple." And I was like, "That's so smart." And so then I started using it in my own sex coaching practices with couples who struggle to have intimacy in a long-term situation because they've gotten into so many routine. And pretending to be an animal and playing with your spouse breaks those routines, it interrupts. And that's kinky. Boom, you're doing role-play. Like, "Oh, we're just a kitten and a bear rolling around, and it's fun." You can't be mad if that's your situation. Right.
---
Also, it totally gives you permission to act differently or be more bold because you're like, "Well, that was the kitten," or, "That was the bear. It wasn't me."
Nadège:
And there comes that healing element. Because sometimes people really enjoy the daddy, mommy, and then the child dynamic, or the daddy and the little, or the mommy and the little, and those can also be really healing situations where it's like, you don't even realize it. You're just like, "Oh, this is hot, this is fun." But here you are as an adult in a situation where someone is nurturing and caring for you, and that can be incredibly healing and self-esteem boosting, and you don't even realize like, "Oh, you're doing this great sexy mental health stuff. You didn't even know." But yeah.
---
What are some unique or off-the-radar ways to explore bondage beyond the handcuffs and ropes?
Nadège:
Well, you can try bondage tape. But I would actually recommend anybody who is interested in or rope, they start taking classes, they start educating themselves because there is no off-the-cuff way, there's just the safe way, and the safe way is being educated. It can be really, really easy and quick to cut people's circulation off. And so you're going to want to stick to tools that are human-friendly, either tools that are made for BDSM or tools that are made for humans. Because sometimes the toys that are made for BDSM can be extremely expensive, and you don't need to spend a lot of money to have a good time.
But other than that, I would say get educated and do the work right. You can make it your own, but there's no secret sauce. You're going to want to educate yourself properly. And then once you're well-educated, finesse your own style. But trying to finesse your own style first, makes me nervous because I think people could get hurt on accident.
---

What are some surprising benefits to bondage sex?
Nadège:
It can really boost your self-esteem, exploring something new, learning how to talk about sex, having a space to discuss your fantasies without shame. All of those things are incredibly self-esteem boosting activities. So just from a mental health self-esteem aspect, it also is really helpful. And I think that surprises a lot of people too.
---
What are some ways to increase pleasure while in restraints?
Nadège:
If someone's restrained, I think vibrators are just one of the super fun things we can do. Also, because it's an extrasensory tool, especially if someone has a vulva, the muscles of the clitoris and the actual clitoris is on average four inches long. So vibrators are so stimulating because it literally vibrates to the root of your pleasure points. And similarly, if someone is intersex or has a penis, vibrators are so great because they really stimulate all the muscles. So I would say adding teasing vibrator play would be fun. And then also adding blindfolds, because the second the eyes are covered, there's so much more sense brought to life. And yeah.
---
You're trained as a Dominatrix…. what are some ways people can work with a Dominatrix to up their bondage sex skills at home?
Nadège:
So many ways. They could learn skills, like, "This is how you use a flogger." A lot of times, there's really great aftercare techniques that can really help sex. And dominatrices, or any type of professional dominant, will know all about that. For example, if you are restraining someone or putting them in handcuffs, when they're out of their restraints, always massage the ankles or the wrists or wherever that person ... get the blood flowing again in those areas. And working with a dominatrix can help you have those little tips and remember to do those things.
Also, working with a sex professional can help you have a really great fun experience. If you know that you're someone who has a fantasy, you want to be dominated by a vampire, look and see if your community has some local professional dungeons or see where you can maybe find someone and see if you can get ... go to FetLife.com or something and see if you can make that happen. There's so ways to connect and benefit from working with a dominatrix, depending on what you want.
---
What are some off-the-radar ways we can hire a Dominatrix to dive more deeply into the bondage sex realm?
Nadège:
Well, there's a great resource called The BDSM Coaches. They also, I believe, have a "yes, no, maybe checklist" on their web site that can be downloaded. But that could be a great resource to start because they're virtual, so they have coaches and experts all over. They have classes. I would also look up Mistress Justine Cross. She hosts a lot of virtual classes. 
If you're at the beginning of your journey, your only job is to try to go to events and try to go to classes and educate yourself. And then I'd go to FetLife.com, which is sort of like the Facebook of kinksters. It can be a little intimidating on that website because there's some people who are really interested in having a sexual time. But it also is a place where people share community events, and you can find kinky people in your area because it is a global web site. It has a lot of people on there, and you don't have to put a picture of your face on there. A lot of people are anonymous because we do live in a sex-negative culture. But those are just some resources to check out and see if there are any virtual or in-person, what is called munches, so lunch with an M, in your area. And those are non-sexual kinky meetups where people go to a cafe, a bunch of kinksters, and it's sort of like kinky networking, if you will.
---
That's all I have… Is there anything you wanted to add?
Nadège:
Yeah, sure. Being someone who trained to be a Dominatrix, I incorporate that a lot into the work I do as a sex coach. And so people who may be interested in discovering their kinky persona or exploring kink with their partner, that's a part of what I do. So I'm also a resource for that. And people can reach out and check out Pleasure Science to learn more, because it's a really fun thing and there's a lot of healthy, empowering ways to incorporate it into your life.
You can go to pleasurescience.com to sign up to our newsletter. If you want to be in the know, that's how to stay in the know. Or you can follow me at Instagram on @PleasureScience or TikTok. But I say the best way to stay in the know is to join our newsletter, which is to go to pleasurescience.com, hit the newsletter button and you get a free guide called Five Sex Hacks from a Neuroscientist. So you get a little fun, something too that'll help you have better sex.
---
---
What did you learn about bondage sex? Any new benefits, tips or ways to perform?
shop bondage-ready luxury lingerie
unleash your inner kinkster