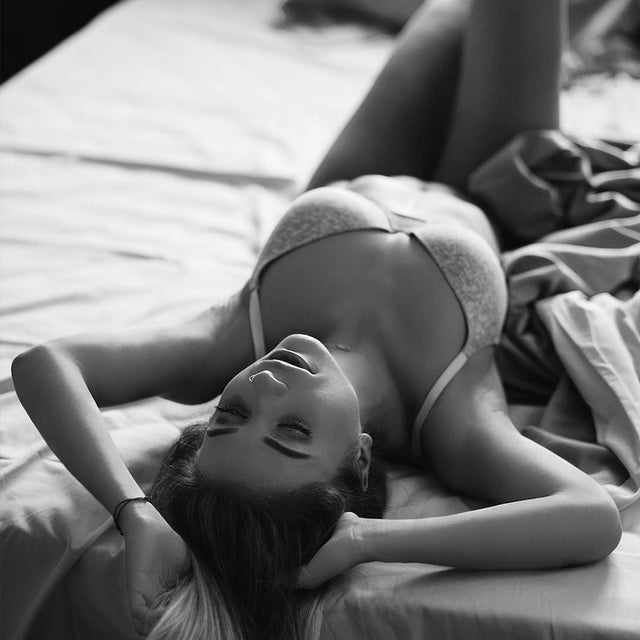 fvck autopilot. 15 ways to live a sexier, juicier life w/o firing up a sex toy
get off autopilot, get on your sexiest life yet
How to feel sexy is a million-dollar question that only you can answer for yourself. What we do know is that most of us don't feel hot, sexy and luscious every minute of every day (if you figure that out, hit us up). What we also know is that life is really broken up into a series of moments and choices that in their whole make us how you feel, act, live. When you choose to live on autopilot you're giving up on thriving and leaving all that juiciness of the moment unexperienced. Here are 15 delicious ways to dive more deeply into the minutes, stretch your experiences and add a little lust and self-love. (P.S. We know we said this list doesn't include firing up a sex toy, but honestly you could almost add one to any of the below tip for some extra spice ;).
xxx
Speak the truth for 24 hours (and yes that includes sharing your lustful thoughts, sexy fantasies and dirtiest talk with your lover, your journal, your sex toys, your body, your mirror). 
---
Try body painting, either using the colors on your skin or using your body as the paintbrush on canvas. 
---
Have a chocolate tasting on your skin (or theirs). If you don't have a sweet tooth, sub in a flight of olive oil. Fruit works, too.
Flirt. With the hottie in line beside you at the coffee shop. With the puppy that wags its tail as you pass by. With the old lady at the checkout at the supermarket. Flirt with life and watch as life gets all lit up all around you. 
---
Go out for a meal or a cocktail by yourself. And own it. Prop yourself up at the bar and chat with the bartender…. and whoever happens to slide themselves up on the seat next to yours… maybe on both sides :) 
---
Ditch the phone… instead of mindlessly scrolling through feeds observing someone else's life in action, how can you engage in the world around you whether it's a walk in your hood, a stroll through a bookstore or striking up a yummy convo with a friend or lover. 
---
Take a masterclass on a subject you know nothing about to keep your brain and creativity stimulated. 
---
You know the way you dress in your dream world, say, the pencil skirt and high heels, the latex dress, that everything-hugging black catsuit or the sheer silk blouse with nothing underneath…. but you never actually dress like that in IRL because you tell yourself my X is too Y? Well, today, dress in your fantasy outfit. Bring your sexiest, most fashionable self to life and see how she shakes, stirs and fires things up.
Get handsy — throw pottery, make a meal with your hands (think homemade pasta or pizza) and really feel your fingers at work to help you stay in the moment and spark your senses. 
---
Sign up for an exercise class, sport or training sesh to learn powerful, body-changing, new techniques that get your heart racing in completely new ways, and then revel in the post-workout endorphin high.
Test-drive your dream car to take your visualization to the next level. How do hands feel gripping the steering wheel, your thighs on the leather seats, your back against the plush contouring of the seats? Let this feeling empower your actions and goals. 
---
Walk through your dream home. That penthouse apartment, oceanfront bungalow, wraparound porch, studio loft? Set up an appointment, get dressed for the occasion and let the creative juices start flowing as you walk through the doors of your future-perfect home. 
---
Ask friends, family or lovers to send you a list of things they love, admire or respect about you, then keep that list handy. Read it to yourself on mornings when you need a deep, soul-igniting new mantra or when you want a juicy mental pick-me-up. (And since it's a positive affirmation that someone observed in you, your inner critic can take a back seat ;)  
---
Think outside the selfie. Taking more pics gets you into the mindset of noticing, observing, capturing and documenting the world around and connects you to people, places and experiences outside of yourself. And it forces you to be in the every delicious moment. Need a place to start? Discover a part of town you haven't been to yet with an eye for what's moves you. 
---
Play I Spy... noticing the specific objects in your surroundings keeps you from zoning out and brings your focus onto what's around you. Not only that, being an observer of life helps drive limitless creativity, possibility and opportunity.  
---
Disrupt your playlists with new genres, different artists, beats that move your body entirely differently. Experiment with tempo, instruments, male and female voices, lyrics or no lyrics. A little ear candy can fire up creativity and brain power in powerfully fertile ways. 
---
BONUS: Use all the things you're saving for a special occasion every damn day. The aphrodisiac candles, the cloth napkins, the cocktail glasses (and top-shelf spirits that go with them) the designer sex toy, the luxury lingerie, that LBD you didn't think you had a reason to wear, your signature scent… you're deserve pleasure and you're worth investing in you. 
---
BONUS 2: Don't forget your daily visualizations… while they're technically taking you out of the moment, they're a reminder of why you're not playing small. They keep you focused on what you're up for in the world and why you're squeezing the juice out of every moment.
---
---
How do you stay off autopilot and stay in the moment for a happier, sexier, more fulfilled life? Comment below....
shop luxury lingerie + ignite what stirs in you
sexy reads that turn off autopilot