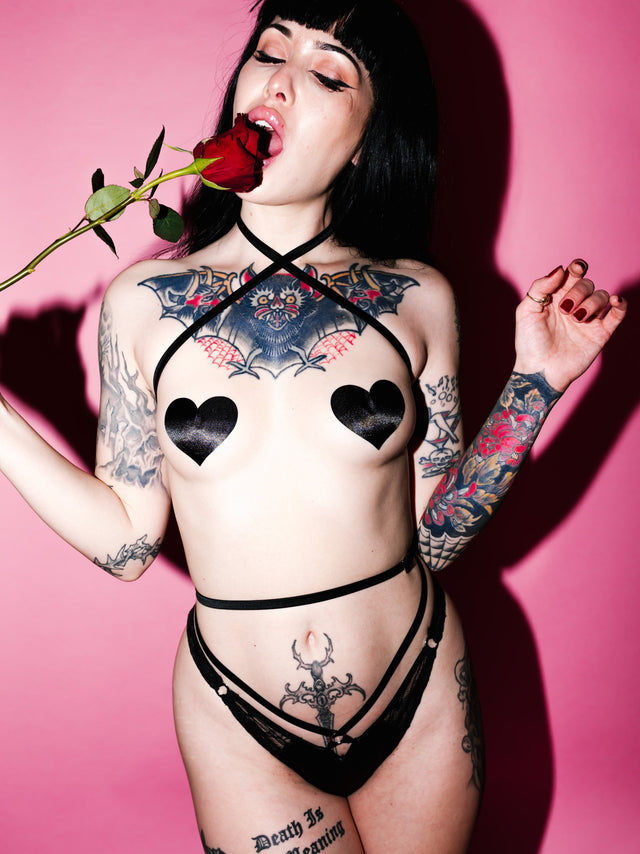 more kink pls: juicy sex ideas that make play time a little naughtier
need more kink?
be a good girl + read on...
Maybe your sex life needs a little spice, your routine needs a switch up or you want to disrupt a full-on rut... whatever your reason, we've got some sexy, kinky tricks and some kink-adjacent ideas to keep playtime curious, rebellious, creative and unapologetically fun. Each of these kink-inspired sex tips can be tailored to your preference and skill set, or dialed up or down depending on your mood, your moment, your lovers. If an idea gets your juices flowing but you're not quite there yet, put it on your kink bucket list. And like always, be sure to get consent so you're both on the same page.
Eye contact 
Not kinky enough? Hmmm…. We beg to differ. And if begging isn't in your playbook, then save your gaze for when they're coming (or you are), when you want to tease or even when you want to dominate or submit. Eyes are the windows of the soul, so use them for the tools they are. We guarantee these are one of your most underrated playthings in your kink kit.
---
Just add teeth 
A little nibble here + there takes oral sex and kissing into delicious new territory. Just be gentle with über-sensitive spots (you'll know them by asking ;). Biting is a kink of its own with a spectrum of ways to play so if you're down to sink your teeth into more, you can always check out an online sex workshop.
---
Make it rain (lube)  
The wetter the better. 
---
Restrain them
You don't have to string them up from the ceiling shibari-style to make your handcuff fantasies come alive. Switch it up to keep it spicy (think silk ties, rope, cuffs, bands, boas, your panties.
---
Torture" them... 
... by withholding what they want. Edging or withholding orgasm can be a delicious little mindfuck that gets them soooo close then backs off just before their release. Kink. Rinse. Repeat.  
---
Blindfold them 
If you've been there, done that, have you really done all you can to keep the mystery and suspense alive? Think temperature play, role play, new locations, edging, erogenous zone discovery, this or that…. The kink world is your blindfolded oyster.
---
This or That Game
The kink is in the name... Make them choose whether they like this [insert new move, motion, trick, body part, hand grip, etc.] or that [insert another new move, motion, trick, body part, hand grip, etc.]. Even if you've done something before, it feels differently when you're relying on your other senses to experience the choices.
---
Take kink into your own "hands"
Yup, erotic massage. But this time use anything but your hands… your body, your legs, your breasts, your breath, a lubed-up dildo, a feather boa. Feel free to restrain them well.
---
Ask for what you want
Are you whispering? Begging? Demanding? Yearning? Maybe they give it to you. Maybe they make you wait. Maybe they make you work for it. Maybe they make you get down on your knees and crawl for it. Their turn is next.
---
Give them a kinky prize
Add a sexy reward (or playful punishment) system to your kink play. You set the goals… for example, if you like the way they use their tongue, they get a minute of [insert reward here]. If they come before you tell them to, they have to wake you later that night with cunnilingus. Keep it fun, keep it consensual, keep it on-brand for both of you.
---
Get a l'il rough
That carnal, primal, athletic sex that leaves your heart racing, muscles aching and possibly a love bite or two? That's always an option turn dial up the kink into routine play.
---
Full-on anal play (including fisting, footing + more) does need some prep work and practice, but stroking, teasing, licking is a good point of entry ;). If you're not ready to go there yet, a delicious booty massage is a luscious way to stimulate all those yummy erogenous zones from the outside in and get you closer to the kink zone.
---
Focus on the head
Not that one. We're talking scalp massage.. at the base of the neck, behind the ears, at the back of your head, at the hairline above your third eye. Slow, deep, and yes, add some hair pulling. That's the money shot. Go slow and keep asking what and how they like it. It can be a yummy push-and-pull of pleasure and pain.
---
Nipples 
They need their own time slot on your tongue's kink calendar. They're a highly sensitive erogenous zone so check in on your partner's likes, dislikes and desires. Play with stroke, pressure, oils... and don't forget how yummy your lips, breath + bites can be to some lovers. Keep the nipple clamps handy just in case. 
---
Worship that cock and/or cunt 
Whatever genitals are on your agenda, exult them to god-like status. Give compliments, stroke them, adore them, focus on them as your reason for being. Their look, their taste, their scent, their response to your touch. Not only will it connect you more intimately, it opens your partner in new ways.
---
Find a new kink together 
We love MakeLoveNotPorn for its social sharing of real-life sex in all its messy, juicy, awkward, yummy glory. It checks multiple kink-forward boxes including voyeurism and BDSM skills dev, plus you're watching real people have the sex they're literally having at home. If you're both givers, sign up to film yourselves.
---
Be someone else 
Role play is an easy way to dial up the kink. You don't need wigs, you don't need costumes, you don't need a dungeon. (But if you got 'em, cheers.) Slipping your lover into a fantasy and simply describing the role they'd play is an easy way to on-board if you feel nervous.  
---
Visit a dungeon 
Book a private class or workshop either solo or with a lover to up your kink skills, discover new possibilities or explore something specific you'd like to learn. 
---
Go off-site 
Yep, it's hard to turn off + tune into what's new when routines + real life stare you in the face. Book a room by the hour or a mad-sexy suite, pack your toys, your lingerie, your kink playbook and, yes, pretend to be someone else if you want to double down on the kink. Start teasing your lover with mental foreplay way before your play date starts.
---
Got your own fave ways to dial up the kink? Tell us below.
pair these with your kink
more butt stuff to explore