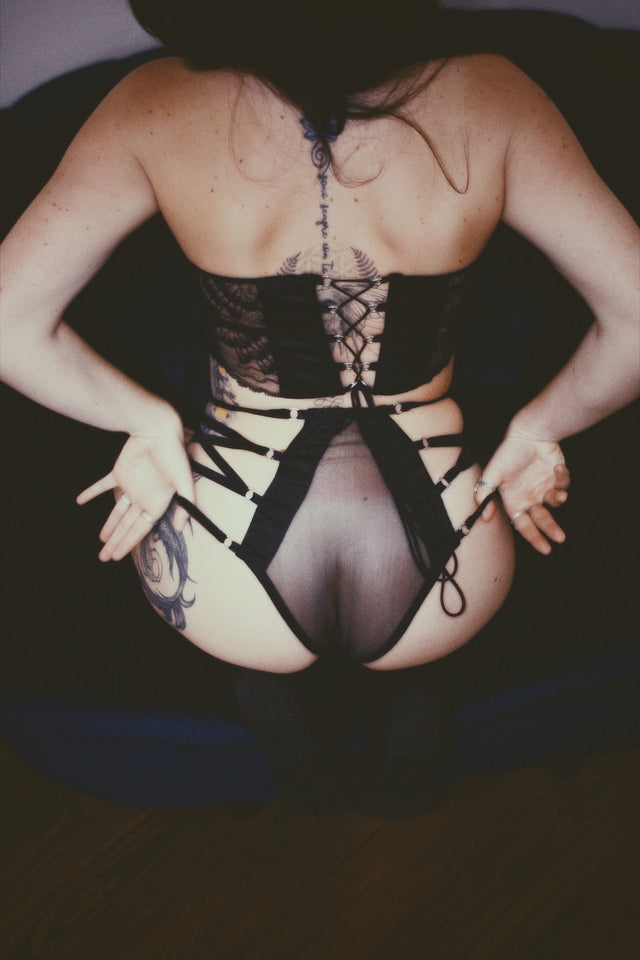 erotica #003: from sexy bar banter to wildly hot hook-up
erotica podcast: renn's "fuck yeah" in a bar leads to a "fuck me now"
Listen to our new erotica podcast here or on Spotify. If you prefer to read erotica, scroll past the podcast to start your journey. 
happy erotica-ing.
xxx
I knew it the moment I saw him walking toward me through my favorite spot in town. Ivy covered the stucco walls of a nameless bar. Low lights, great music. I was already turned on. The night before, I'd felt him rise up and off the chain of flirty, witty banter, we'd been stirring up for two days on a popular dating app.
He was seasoned. Owen… husky, sophisticated but disheveled enough to remind me he was a creative, wild soul deep down inside. Very my type. He was polite, well-mannered. I love polite and well-mannered and the moment when I penetrate beyond the well-mannered and polite to feel his animal buried deep within, because there is always that moment. I've learned the art after dating for so long. How to penetrate a man… one of my favorite feelings in the world.
We sat side-by-side on dark red, leather barstools. It was too crowded for anyone to notice us. Bartenders buzzed in the background with their suspenders, rife with arrogant attitudes and as we settled into the connection, our eyes danced around each other's faces, eyes, mouth. I could smell him. In the same way that I could sense him. The pheromone thing… was a thing.
This was my fuck yes!
A thing I've fought all of my life until the women in my life taught me how to feel again. How to feel the 'yes' in my body. Sitting across from him, I couldn't help but feel the striking contrast in what chemistry actually felt like and the fact that I'd almost never felt it before. And never in my marriage. Not once did I ever want to devour a man like I wanted to devour him, suck him inside of me, fill him like he was filling me and grind my hunger on him. How could I have never felt this for my husband in all those years?
I'd always just rushed through the sensation of it. Desperate to reach the cheaper, more guaranteed outcomes that I knew worked with men, but not tonight. Tonight, I let myself have it, soberly. All of the sensation, all of the build, the vast and decadent, deep pleasure I could now allow myself to have in the face of him. Strong, open, masculine.
He wanted to give it to me. And I wanted him to.
I stayed right there in that spot. Allowed myself to open into it, into him, staying with it. Not overriding the impulse to step on the gas and distract with his pleasure and not mine just because I couldn't handle whatever high-voltage electrical panel that had just lit up inside of me. It was a lot. I stayed there with him. Felt my fuck yes turn from a buzzing to a rumbling, yawning percussion of pleasure. A yes that nuzzled up deep inside of me.
Yes, and I was committed to not rush it. 
Committed to feeling. Without numbing, confronted, staying in the anticipation of the unknown. 
Right there! 'Stay right there,' I told myself. 'He can feel you from there, I promise.' And he absolutely could; every single inch of me.
Our conversation felt easy, right, anointed in some way, like we'd known each other for years. I couldn't put my finger on it. At one point we both paused. Locking eyes, I let him into my desire a little.
"I really want to taste your lips," my chest opened to him.
"You read my mind. Want to get out of here?"
The words bounced off his tongue and laid themselves in the space between our mouths.
I nodded with a coy little grin.
As the valet drove my car up the curb, he took the lead and walked over to the driver's side, paid my valet ticket and settled into a quiet power behind the wheel. The simple act of not asking permission, deepened my turn-on for him. He drove us to his hotel. The valet took the keys. They exchanged the valet ticket. He led me up the elevator, then to his room. I had just met him, but I trusted him.
As the elevator doors opened, a man with his wife and family stood in the far corner peering out at us as we stepped in. We stepped in and exchanged casual glances until the doors opened again, the family made their way out and the doors closed again, seemingly in slow motion.  
Owen turned his body toward mine and pressed into me firmly.
"I'm not going to kiss you just yet," he mouthed.
"Oh yeah? And why's that?"
"Because once I taste you, I'm not going to be able to let you go."
God, this man knew how to build a fire.
As we approached his hotel room, Owen opened the door and motioned for me to enter first. As the door closed, I felt him press into my ass. The door closed behind us. He grasped my hips and pressed himself into the crack of my ass. He was already hard and I loved it. His hot palms slid up my silhouette and to my dress straps that had slipped down over my tanned shoulders. His masculine presence felt so delicious over me. 
He tucked his fingers into my straps and pulled my long, tight, black dress down to my knees.
"Bend over." 
My pussy swelled at his dominance. As I bent over, he knelt down and cupped each of my ass cheeks in each of his hands. My boa high-waisted panties framed me like a picture, a snack, a meal.
"I'm going to devour you," he breathed as he pressed his whole face into me. 
His warm tongue licked through my sheer panties. The wetness dripping down my crack down to my pussy lips.
"Dear Jesus, your ass is a piece of fucking art, Renn!"
His enthusiasm made me wet. I looped the black silk ties between my fingers and pulled gently, the lace front and sheer back of my panties loosening. As I peered back at him from over my shoulder, his mouth fell open and his eyes went animalistic on me. He tucked his hands inside my panties and pulled me into his growing cock a little more. 
His hot, electric tease made my knees physically buckle as a jolt of caffeine bolted down my inner thighs. Taking both sides of the ties between his thumb and forefinger, he gave them one last long dragging pull and my panties dropped to my ankles.
There I was, fully bent over, my panties puddled in a silky slink around my high heels. I was the definition of fully exposed, my bare ass and pussy offered up to him like a platter. The sound of his breath quickened. I felt his warm palm on the small of my back once more as he gently guided me to the edge of the bed to bend over once more. 
His moist breath getting closer and closer to the backs of my thighs before burying his face and tongue deep into my holes in a way that felt so right, so primal, so nasty. His tongue lapping up my liquid essence, his mouth suckling each of my labia, teetering on the edge of aggressive and gentle. His wet tongue thrusted inside of my more-than-ready vagina before moving to my asshole and fully eating me like a whole meal.
"My God that feels so good!" the words toppled out of me. I spilled onto the bed. My boa panties still wrapped around my ankles and heels; a messy little juiced up scene.
"Fuck me, Owen. I want to feel your cock slide into me."
I needed him. I needed to get filled by him. Filled all the way up. I needed to be his nasty little slut. Just for one night. I didn't know if he was single or married and I didn't even care.
The tip of his cock gently pushed inside of me. Hard and girthy, it slipped inside from the back effortlessly and my pussy took it all and gripped around his fleshy, throbbing cock like perfection. With each raw thrust, I wanted him more.
He gripped my waist and flipped me over to my back, raising my legs up in the air, keeping my ankles together. Removing the silk strings, he further tied my boa panties securely around both of my ankles so that I couldn't part them. He continued to thrust inside of me. My torso writhed up, my mouth open for his tongue. He dug into me, and leaned down to exchange a breathy kiss. 
I was becoming more and more wet with each thrust. The sweat was beginning to bead on his brow and chest, his animal completely in the zone of desire.
As he stood before me, my ankles bonded together in one of his big hands, he leaned in and pressed his nose into my panties and inhaled. And right as I inhaled with him, I felt him getting close to orgasm.
"Come inside of me, Owen."
"Oh, you're a cum slut. I knew it. Your wish is my command, my darling."
He continued to dig into my pussy, deep, then slow, then fast, then hard and quick, then slow and deep again. And as his eyes slowly rolled back, he gripped my sweaty, bare breast in his free hand and came deep inside of me. I'd never ever dared to be so risky with a complete stranger but there was something truly so primal and natural about it, not an ounce of it felt wrong.
Owen slid out of me and gently laid himself on top of me. We spent the next two hours next to each other. Cuddling, laughing, downloading our evening, listening to music. There was something so wholesome about our connection. The most perfect concoction of passion, lust, drippy, wet desire, and long lost kindred spirits all at the same time.
"It's time for me to go, Owen."
"I know. But I don't want you to go. We were too hot."
I inhaled and grinned at him as we stared into each other's eyes one last time. He helped me get dressed and as we made our way back down to my car, him as my escort, I felt his cum slowly drip out of me, onto my boa panties and down between my thighs. I fucking loved it.
erotica-ready, luxury lingerie for your next play date
prep for your erotica with sex tips + inspo
We've paired every piece of Lunatic Femme lingerie with erotica to inspire your mood. Follow us on spotify podcasts to listen and/or read along in the playbook.