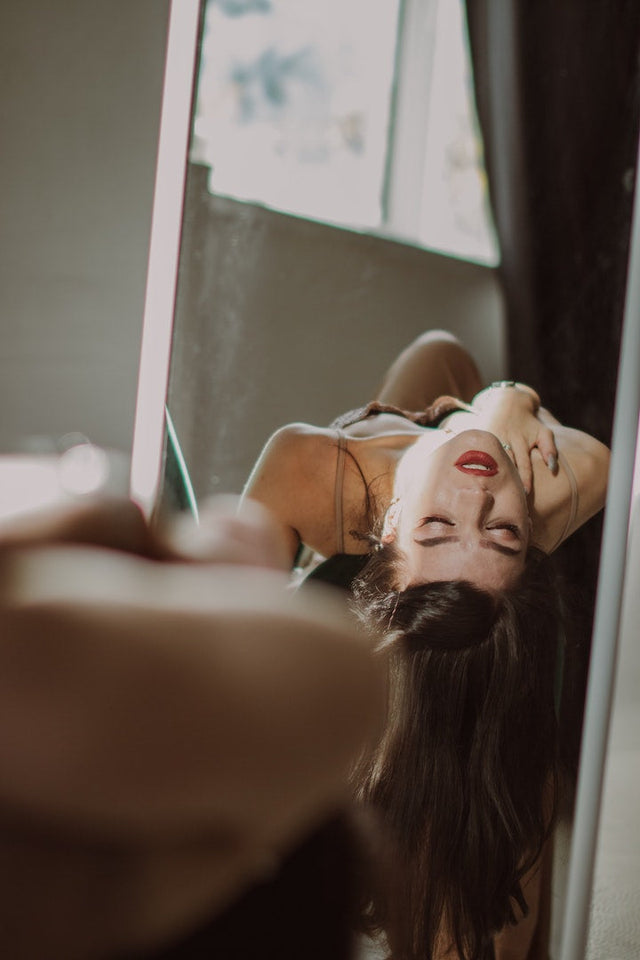 solo sex: your playbook for how to masturbate like a pro
take your masturbation game to expert level. ready, set, masturbate.
Even sex with yourself can get boring if you don't mix it up, introduce new discoveries, follow your curiosities + fuck yourself like it's the first time every time. Make your next masturbation sex session even hotter with a curated, sensual playlist, a luscious lingerie shopping list and a sexy to-do list to help you masturbate like a queen. And, of course, if you've got your own must-do masturbation tips, don't hold back. 
xxx
your masturbate-in-style shopping list
try these ready-to-masturbate beats for hot AF solo sex
Our Solo Beats for Solo Play playlist has been expertly curated and insanely tested (someone's gotta do it, right?) for your pleasure. It's made to help you drive curiosity, ignite exploration, push boundaries + thrive in self-pleasure with music that sends you within your body and deepens your awareness of you. Remember that even songs or beats that don't resonate with you in a particular moment are information. Maybe you're not into soul rock today or lusty rap isn't cutting it. Maybe you're feeling more naughty r&b or aggressive, thrashing rock. See what this playlist inspires in you and use it inform your solo game. Or just hit play and go fuck yourself (in the best way possible).  P.S. Follow Lunatic Femme on Spotify for a complete list of playlists to ignite all your moods.
your to-do, to-consider, to-try masturbate list
---
1. re-think your foreplay
Start earlier, go longer, change what's boring you.
---
2. analyze the autopilot
Do you always zone out right away? Are certain toys suddenly meh? Figure out where you zone out and switch up that part.
---
3. make it wetter than fuck
There's a reason god made lube. Yes, even if you're wet on your own. Use it to massage your breasts, inner thighs, feet, hands. Taste it on your tongue. Practice your stroke game on that crystal dildo. We're obsessed with plant-based Whet (it's all in the name).
---
4. strip yourself
Think lap dance, think slow peel off of your lingerie, think silk and lace tickling your skin on its way to the floor.
---
5. mindfuck yourself, too
Edging. Get on it.
---
6. switch your ride stroke
Goody Howard's rideology as inspiration to grind, roll your hips, change up your movements to see what else ignites your body.
---
7. get loud
Studies show the noisier you are, the more explosive your orgasms (just ask the lovers in the hotel room next to yours).
---
8. add in energy play
Try medium Jamie Butler's kundalini-style tricks for deeper full-body orgasms.
---
9. test-drive those nipple clamps
Try different styles and intensities to find new ways to arouse yourself. If you're already a pro, have you had a nipple-gasm yet? If not, bucket list that bitch.
---
10. blindfold yourself
You're probably thinking, "I just won't look" but there's something mysterious and forbidden about wearing a mask. See for yourself.
---
Or fingers, or dildo. Whatever rocks your booty's world.
---
12. visualize in great detail
… that your lover is watching… imagine your hottest fantasies… think up a deliciously hot new scene.
---
13. move locations
Are you a bed-only masturbator? Is shower self-fucking your thing? Find a new place and a new level of heat will emerge.
---
14. fuck yourself in public
We're not suggesting you stop traffic on the West Side Highway but you can give yourself a little quickie in a restroom or hands-free on your roof deck, a park blanket or wherever you can keep the secret.
---
15. slow the fuck down
Slow sex isn't just for lovers. Immerse yourself in your body, your senses, your toys and don't emerge until you're maxed out on pleasure.
---
16. keep going
Sometimes we bury our emotions and stifle our orgasms. If you have one, keep going, see how much further you can go to release more emotion, pleasure and o's (think cervical).
---
17. massage your body
Whoever said erotic massage can't be done alone hasn't spent a weekend in bed with MakeLoveNotPorn, a stash of sativa and some CBD massage oil. Pro tip: stay hydrated.
---
18. tie up a lover
…so they can watch. The removable ties on our Boa Panty are perfect for securing the arms, legs, wrists and ankles of someone who needs some sexy restraining while you tease them with your self-touch.
---
19. gaze at yourself
Pussy gazing or pussy worship is an art in itself and worth delving into. Explore yourself in the mirror, compliment how you look, feel, taste. If you're not your pussy's hype crew, who else will be?
---
20. take yourself to the sex store
You do this with lovers so why not yourself. Get lost in a new section, try on outfits, ask questions (the staff are usually experts) and leave with a new toys or some sexy new tips for a toy you already have. Bonus points if you sign up for one of their classes.
---
21. buy yourself a drink first
Sit at the bar, flirt with someone, read some erotica, try a new cocktail, wear lingerie under whatever makes you feel hot AF, knowing you're going to go home and get fucked.
---
22. explore a new scent
Maybe it's an aphrodisiac candle or incense or perhaps you try new fragrances or a potential signature. Do certain notes or ingredients arouse you, excite you or turn you off or on? Put something new in your routine to get you in the mood.
---
---
How are you upping your masturbation skills? What's on your masturbate-better checklist? 
Comment below with all the juicy details. 
because who wants to masturbate naked?
more masturbation tips comin' in hot