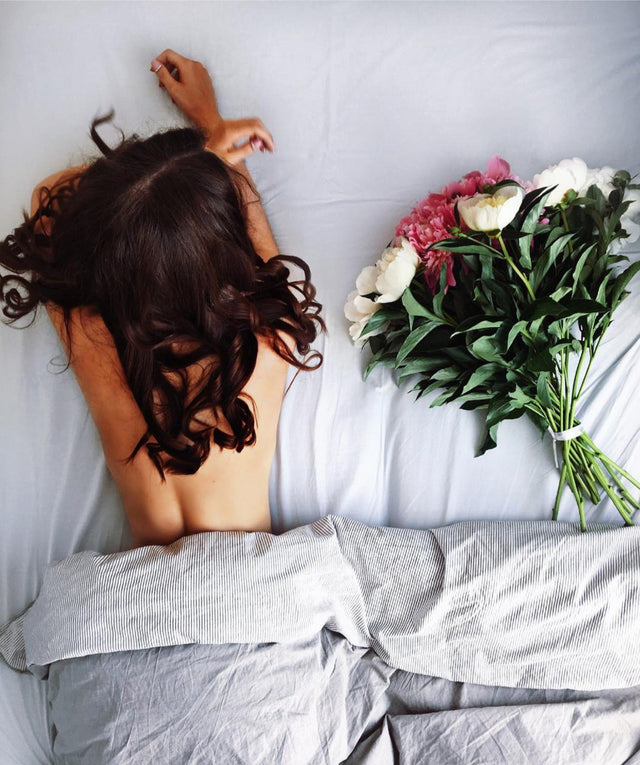 how to let yourself be crazy in love, lust + romance
want that crazy in love, lust + romance mood?
If you want that crazy, can't-keep-my-hands-off-of-you type of love, romance and lust, turns out that the key isn't necessary made bedroom skills or the ability to contort your body into 793 different sex positions. Researchers discovered that one of the secrets is not-so-little thing called "responsiveness" outside the bedroom. Things like kindness, connection, talking to them, knowing what's important to them. Sure, those kegels are probably helping but it's the game you're bringing outside the sheets that can show you really care and open your partner to intimacy and increase desire. In fact, researchers found that a woman's level of naughtiness increased when her non-sexual desires were acknowledged. So that means you can still get your kink on, but ask your partner about their day first ;)
We've listed our fave way to keep the magic alive, along with a sexy shopping list and a lusty, romance-filled playlist to ignite the body.
xxx
your love, lust + romance shopping list
inspire your crazy in love moods with this playlist
Our Crazy in Love + Lust playlist invites you to come play. Each song has been curated to stoke your fire, ignite your joy, and help you feel the freedom of being out of your head and in that lusty body. Give that body of yours what she wants and titillate her senses for whatever she's feeling from crazy love and romance to lust, passion and playfulness. Use this playlist to inspire your mood and remember, if these songs aren't doing it for you, use that as info to understand more about what puts you in those yummy states of flow. P.S. Follow Lunatic Femme on Spotify for a complete list of playlists to ignite all your moods.
how to let go + be crazy in love, lust + romance
---
1. surprise them
Showering your lover with little gifts keeps you both in that flirtatious, "I'm thinking of you" state of mind. Let yourself enjoy the feel-good process of giving, which keeps your own fires lit.
---
2. listen to them
One of the sexiest things you can do is pay attention to your lover or partner when they're speaking, ask questions, listen to the answers.
---
3. play together
Laughing, joking, playing games, wrestling… find something that connects you both.
---
4. be affectionate
Lingering hugs, holding hands, grazing their fingertips, sliding your hand over their ass, kissing the back of their neck, whispering in their ear…
---
5. trade massages
You don't have to give each other epic erotic massages every night (though that'd be amazing) to sink them and you into bliss. A 5-minute foot, scalp or neck massage can melt your lover and put them in that crazy-in-love mood or, at the very least, help them erase the day and re-connect with you.
---
6. appreciate them
It's easy to forget to do the little things and even easier to forget to say thank you when your lover does them for you. That's why we love sharing 2-minute gratitude check-ins at the end of the day…. to celebrate what we love, lust or appreciate about each other.
---
7. let them know they're on your mind
Download 21 ready-to-send dirty texts for free for those moments when you're juggling sexts with 1,000 other things.
---
8. create "romantic rituals"
We're not talking about the kind of rituals that end up putting you in autopilot. These are little activities or secrets or routines that the two of you love to share because they bring you closer together. A sunset walk, hitting the gym together, making dinner together, showering together.
---
9. surrender to their plan
Let your lover create a yummy date night without you having veto power. Be surprised, be spoiled, find something new to love. 
---
10. role play first dates
Doesn't matter how many you've been on together, pretending this is your first night out can inspire new conversations, invite new discovery and ignite more flirting, more play, more openness.
---
11. don't forget your lingerie 
Even if your partner won't see it, you'll feel more in your power wearing something that stirs your soul, makes you feel alive and boosts your mojo, like a luscious lingerie harness hiding under a kimono robe, dress or nothing at all.
---
---
12. play in pink
Color psychology says that the color pink is romantic, feminine, flirty and calming. How about adding a pop of flirty color to your date night fit or just keep your sexy pink heels on when you hit the sheets.
---
13. compliment them
Doesn't matter how long you've been lovers, a good (authentic) compliment can instantly change a mood. Wanna make it lusty? Hype their oral skills. Feeling romantic, make it more heartfelt.
---
14. share a hot dream
Tell them about the sexy dream you had last night and fill it with all the details you can remember (or make up) and see if they're game to act it out. 
---
15. watch other people fuck
Watching ethical porn or signing up for social-sex platform MakeLoveNotPorn helps drive curiosity, self-discovery, play by giving you new ideas and inspiration. It also invites intimate conversations about likes, dislikes, kinks, boundaries and more.
---
16. make them feel special
If you don't what little things light up your partner, find out. Might be as little as bringing them their a.m. coffee or to grabbing a bottle of their favorite scotch while you're running errands. Doesn't have to cost money or take time, it just has to make your lover feel loved.
---
17. dress up for them and you
Pair your flirtiest dress with your fiercest lingerie harness, sexiest g-string or nothing at all. Spending time on your look can help you get in the mood for love and lust, while giving you those queen vibes.
---
18. keep getting to know them
We love a good intimacy game to get the conversation lubricated and the juices flowing. Try our 50 Never Have I Ever questions if you're at a loss for what to ask or feeling shy.
---
19. clear the air
Okay, not so sexy at first, but definitely sexy later. If you're feeling resentful or hurt toward your partner, create a safe space and clear things up. When you lose the negative feelings you open your heart up to your partner again where romance, lust and love flourish.
---
20. eat, drink, talk, fuck by candlelight
Few things make a romantic ambiance like candles. Don't save them for Saturday night or even date night, use them daily to mark the end of your day (stress, work, obligations) and the beginning of play. Think dinner by candlelight, cocktails, catching up on your day, streaming your fav show, sharing gratitude lists with each other, meditating together, reading, masturbating, foreplaying, doing abso-fucking-lutely nothing.
---
21. keep secrets
Shared moments, shared language, shared feelings… making secrets together and/or keeping your partner's most sacred secrets builds intimacy, trust and connection, which can keep fires burning.
---
score free ready-to-send dirty texts + cue the lust
We've created 21 ready-to-send, free digital texts that let you tease your lover all day. Send them when you're feeling playful and at a loss for words. Because sometimes the mood is there but the lingo isn't. Download your sexts here.
---
---
What do you do to ignite those feelings of love, lust + romance?
Comment below with all the juicy details. 
luxury lingerie for all you lusty, romantic, love-struck moods
sexy reads to ignite your inner lunatic femme