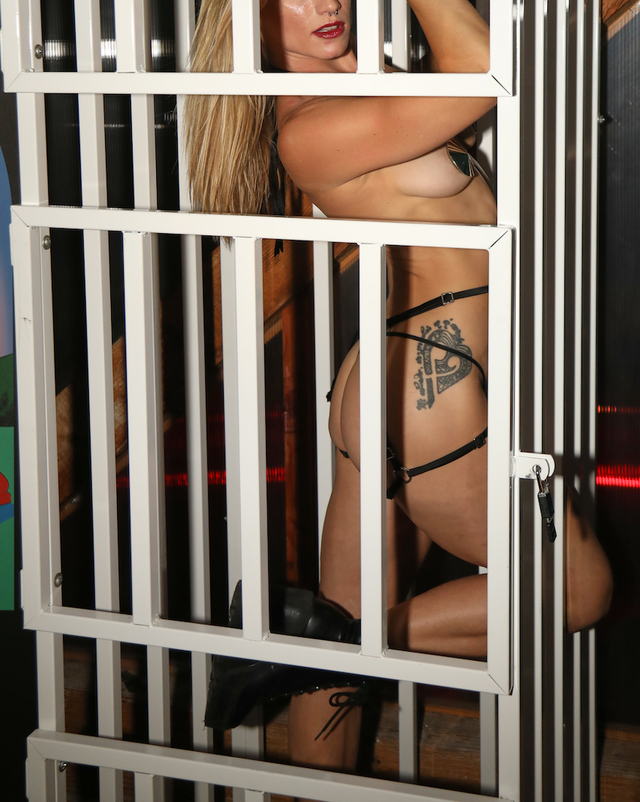 kinky sex ideas worth trying at least once
try these kinky sex ideas or let them inspire your own
Whether you're a card-carrying kinkster or just like to play on occasion, finding ways to explore your curiosities, uncover new pleasures, deepen your skills and discover more of what you love (or don't) is an Rx not just for better sex, but also stronger intimacy, greater connection to your lover, deeper understanding of yourself and lustier, yummier, orgasmic life. 
Check out this list of kinky sex ideas and use them as your muse. If you're already pro level, maybe these will inspire new ways to dial up your play. And if you're a beginner, remember to get consent and play safe.
xxx
Roll with a wartenberg wheel 
Sure it might look ominous but the idea is not about pain, it's about sensation. Close your eyes and experience how it feels against your skin, on different parts of your body, using different pressure. How does your breath change, your body stir, your mood shift?
 
Try on latex 
Pour yourself into a dress or catsuit and experience the squeeze and see how it feels to move, to touch, to be touched, to be hugged and contoured. Maybe it feels freeing to feel constricted? Maybe it turns you on. Maybe you hate it and that turns you on…
 
Get yourself in a bind 
Explore how it feels to be bound. Whether it's ropes or cuffs, give yourself permission to lean into the fantasy of being tied up. (Obviously, with a partner you trust and a safe word you've agreed to.) Maybe it opens a doorway or a portal to a deeper desire. If you prefer to experiment solo, take a workshop to learn safe ways to play.
 
Role play like an athlete 
Fitness gurus sometimes suggest putting on your shoes to get in a workout state of mind. You can do the same with sexual games. If you want to feel sexier, more alive, more like someone in your fantasies, dress the part. Not just sexy panties, go full sex club, sex party, burlesque. Think SCNTM, think Torture Garden, where you can't get in the door unless you meet the dress code.
 
Allow your mind to reallyyy wander 
Kink originates in the realm of fantasy. Give your imagination free reign to explore the darkest depths (and lightest light) of your fantasy. Start by sharing your wildest dream in vivid detail with your partner. That alone can be a major turn-on.
Put your lingerie to work
Hang it up where your lover can see it then describe how you'll wear it, what you'll do them in it then take an endlessly long time peeling it off later.
Hear your partner out
if your partner has a kink or a fetish they've always wanted to try, give them permission to play it out… even if it remains in the realm of fantasy, let them role play their body's deepest desire. Not only will your partner feel seen and validated, it opens the door for a deeper level of sharing and truth for your deepest desires. They don't have to stay hidden and secret, they can become tools for super-hot fantasy play.
 
Find a fuck-off shoe that fits 
Grab yourself a luxurious pair of six- or seven-inch heels (they're easy to find pretty much anywhere). Strut around on these towering wonders and notice how it changes your walk, your body language, your language…. What does it bring out in you? A sex kitten? A tigress? A dungeon mistress?
 
Take it in hand 
As you're strutting around in your heels, notice what your hands want to do. Do they want to hold something, squeeze something, smack something, tickle something? What's that one accessory your body is craving? A crop? A fur boa? A leather flogger? Steely handcuffs? A silk leash?
 
Get naked. 
Nakedness and intimacy go hand in hand for obvious reasons. Make any experience more intimate, from stargazing, cocktail crafting and downward dogging to brewing morning-after coffee. If full-frontal isn't in your repertoire, going topless is a sexy gateway.
 
Upend your daytime role 
If you're a boss in the boardroom, try being a sub in the bedroom. Instead of giving the orders, maybe it feels like a hot relief to be told what to do for once. Stay-at-home mom? How about a pm Domme romp with your partner where you bark the orders and they don't dare say no or ask why.
 
Learn how to play like a pro 
Many sex experts say clients have been turned off play by partners who simply didn't know how. Be it spanking or shibari, take a class together. By learning the art and the form you can have infinitely more fun and freedom. 
Use lingerie to create power play.
Dress up in your sexiest, fiercest, yummiest looks then give your partner commands on what to peel off, put back on, tighten, drag across your body and more. Using harnesses, bodysuits and bras as playthings and toys creates a new level of exploration.
Explore your dry hump game 
Penetration isn't the only game in town. See how long you can delay the peel-off of clothes and let your body discover the bliss of pressure, the delight in the squeeze and release of muscles, what other parts of your body ignite.
 
Tickle your senses 
While tickling drives some of us mad, others it drives mad with pleasure. In fact, some people can orgasm from tickling. Grab a feather or a fan and explore every inch of your bodies and discover if this is a kink to be kept.
 
Bite into your carnal pleasures 
If this is your first time, don't bite full force everywhere you look. Start with their erogenous zones and softer pressure, getting feedback along the way. 
V is for voyeur
Discover your capacity to derive pleasure from watching others' pleasure. Hit up a sex club and try on the art of witnessing in an environment that feels safe and consensual and sexy AF. What do you like to watch? What's not working for you? What techniques would you like to witness?
 
Leave your curtains open
Exhibitionism isn't just for NYC apartment living anymore. If you want to ignite your inner exhibitionist, leave your drapes open a peek (or all the way) to see how that feels in your body. If you're down for more, try a site like MakeLoveNotPorn and let your skills take centerstage.
Find your erotic trigger 
Whether it's a flogger or a choker or a feather tickler, find that thing that drops you into your erotic sweet spot and bring it with you everywhere. Whether it's a cocktail party or a family dinner, stash it in your clutch or under your outfit and tease yourself with the thrill of knowing you're always ready to play.
 
Try some PDA
Street-corner kissing, back-corner groping, dance-floor grinding. A little PDA is kinky way to get the juices flowing and gives you a taste of that exhibitionist POV.
Be open to surprises
When life throws you a curveball (sudden rain shower? icy northeast wind?), see how it feels in your body. Maybe you like temperature play. Maybe you hate it (but you love taking control of the situation). We live in our sensual bodies and we're surrounded by opportunities for sensual exploration if we're open and curious…
 
Create a major arc
Layer your fantasies one on top of the other. Let your imaginations run wild and your role play even wilder by encouraging each other to open up and add layers and twists and turns to your epic erotic story. Like a choose-your-own-adventure book but you're naked. Eventually.
Kink up your solo time.
Masturbation shouldn't be a 3-minute sprint to a finish line. You and your body deserve as much if not more creativity, time, attention and deliciousness we're conditioned to reserve for partners. Test drive your desires on yourself to explore curiosities or find new places to play.
Master your technique
If you're pretty clear on what you love and what you don't sexually, get really fucking good at your skill set. Up-level your toys, tools and techniques to see how you can keep your passion evolving and ignited. Follow new or different sex experts to see what new ways to play you can pick up.
Make DIY toy box
If you're down to play, toss a few non-sexual items in a box — think scarves, ropes, a wooden spoon, a dog leash, tape, food…. Putting the box together will foreplay in itself.
Trade sex toys for sex furniture
Think spanking benches, sex swings, cages. Your local dungeon is a sexy spot to experiment and you're just getting your toe into the water, start with a sexy little fuck bench in the shower.
---
---
Got your own kinky sex ideas? Pile them on…
let your kinkiest ideas start with lingerie
more lusty reads on tap...