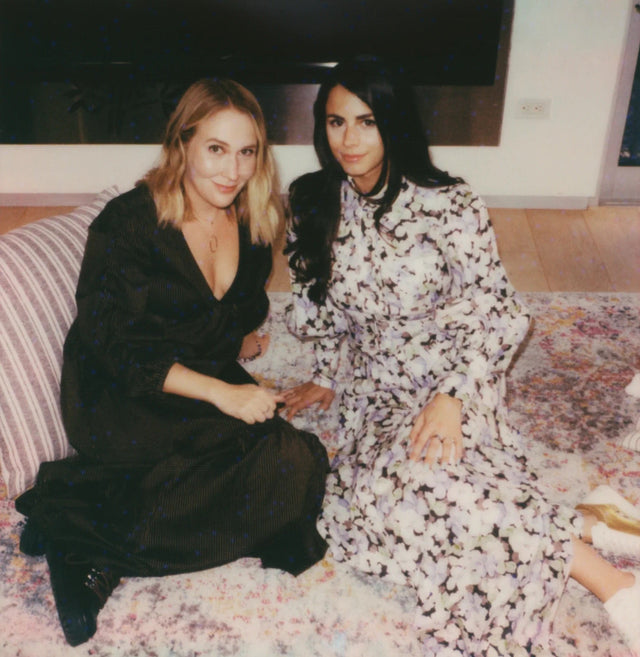 personal fav sex lube founders keep it clean so you can get dirty
get xxxtra dirty with personal fav's insanely clean sex lube
Looking for a lube to love that loves you back? We test-drove (and drove and drove) Personal Fav's non-toxic, clean AF sex lube duo and it's kinda obvious why they call the brand Personal Fav. There's Whet, a water-based sex serum made with clean ingredients and natural aphrodisiacs, and Pique, a plant-powered, CBD-infused pleasure oil designed to amplify your orgasms. These inclusive, sex-positive sex lubes boost pleasure without sacrificing your health in the process — that's one of the reasons they're also a fav on Goop. Think maximum glide and grip without the slip (that's what happens when you blend more than 16+ formulas until they're perfected). What do you expect from a brand whose motto is, "we keep it clean so you can get dirty?"
Read on to see how Hannah and Stephanie work on behalf of the wellness industry to keep sex health conversations out in the open and pleasure top of mind (and body).
xxx
📸: hannah hutton (left) and stephanie elias, co-founders personal fav
One of our beliefs is that "you're not one thing, your lingerie shouldn't be either," and you and Stephanie are the epitome of the "you're not one thing" idea, having been in multiple industries as well as startups where you wear so many hats. How important do you think exploring your true sexual, sensual and creative self outside the bedroom is to driving curiosity in the bedroom?

 Hannah Hutton + Stephanie Elias:
This is beyond important. We are constantly finding inspiration on what 'pleasure' means to us in nature, in food, music, etc and when we get an 'aha' moment where our pleasure is fully, organically activated outside the bedroom, it stops us in our tracks, "how can I recreate this feeling intimately with myself or a partner?" It's so important to take note of what brings you pleasure outside of the bedroom, to best get to know your own body and communicate with your partner when you are sharing an intimate bedroom experience.
---
What are some of the more off-radar ways to use your water-based sex serum and CBD pleasure oil?
 Hannah Hutton + Stephanie Elias:
For Whet, our water-based sex serum, this can be used to get rings off of swollen fingers – but actually. Our friend used it on a 'gas passing' tool to help her newborn move things along… no, but actually. For Pique, our CBD pleasure oil, this is a miracle worker to rub on your belly and lower abdomen when you have cramps and on sore muscles after the gym. It is truly a magical potion; people love using it as an under-eye serum!
---
What are some of the misconceptions around "lube" that you're trying to change?
 Hannah Hutton + Stephanie Elias:
That it is a solution, that you use it if something is wrong with you, NOT TRUE. It is an enhancement to your bedroom experience regardless of natural lubrication, or lack thereof. Viewing lubes, sex serums, or oils as an ally in the bedroom to ensure a more pleasurable time for all parties involved is at the core of Personal Fav's message.
---
How can we use sex serum or oil as part of an overall everyday routine in getting more pleasure for ourselves?
 Hannah Hutton + Stephanie Elias:
Massaging yourself or your partner is great foreplay with these tools for throughout the day. Also utilizing the aromatherapy properties of Pique with the Bulgarian Rose — it's a multi-sensory stimulating experience with a natural botanical based aphrodisiac. Touch, smell, feel, play.
---
We're big advocates of the slow-sex mindset… how can we use sex serum to slow things down with ourselves or a lover(s)? (Yep we'll take tips ;)

Hannah Hutton + Stephanie Elias:
Breathwork, taking your time, making sure the products are a part of a ritual. Foreplay is so often overlooked — we encourage people to enjoy all pleasurable slow-sex acts… penetration is not the only kind of sex.
---
---
How can we use your sex lubes, serums and oils to discover more about ourselves, what we like, etc.?
 Hannah Hutton + Stephanie Elias:
They are a great communication tool while introducing new things into the bedroom. Offering to utilize a plant-based bedroom serum or pleasure oil as an enhancement starts a larger conversation around incorporating toys and other experimental aspects into your bedroom repertoire.
---
People are raving about your CBD oil saying they're having deeper more intense orgasms, reconnecting with partners on a new level… why?? What's the magic sauce?

Hannah Hutton + Stephanie Elias:
Our full-spectrum CBD stimulates blood flow to sensitive areas, enhancing arousal! CBD is a vasodilator — which literally means increased blood flow. In conjunction with the natural aphrodisiacs and Bulgarian Rose — it is sure to make your most intimate areas feel all the feels in the best way.
---
How can accessories, toys, tools like yours help us "play" more both with ourselves and lovers?
 Hannah Hutton + Stephanie Elias:
Using the pique pleasure oil as a warm up for massage is great, but also utilizing either the whet sex serum or pique for use with all toys is totally safe! We encourage sex positivity and exploration — whether it's light BDSM or anal play, Personal Fav is here to help you explore the depths of your desire.
---
The male gaze, the patriarchy, the main-dominated industry POV, how are you changing the conversation? And helping your tribe change it as well?
 Hannah Hutton + Stephanie Elias:
We are LOUD about intimacy. Recognizing the male gaze as a mechanism of the patriarchy to distract female identifying persons, and continuing to learn about it can help us call it out when we see it. We want our entire community, all genders, to feel beyond empowered and in control of their sexuality on their terms. We are extremely intentional, strategic and purposeful in our language and how we show up for our tribe so they feel equipped, supported, and seen to push back on societal norms regarding sex and gender. Power in numbers. The overturn of Roe rocked us to our core, and lit a fire in us that we had trouble articulating. As a female founded, owned, and operated brand, we take pride in the autonomy we have over our bodies and refuse to relinquish that. We can start to disenchant ourselves with the familiar male gaze and remove it from our institutions by acknowledging it, and by amplifying female-identifying creators. Vote early, vote often. Your pleasure and bodily rights are on the ballot.
---
---
How is Personal Fav inspiring you to add more sex lube to your life?
luxury lingerie for your most luxurious lube play
what else can you do with sex lube...?