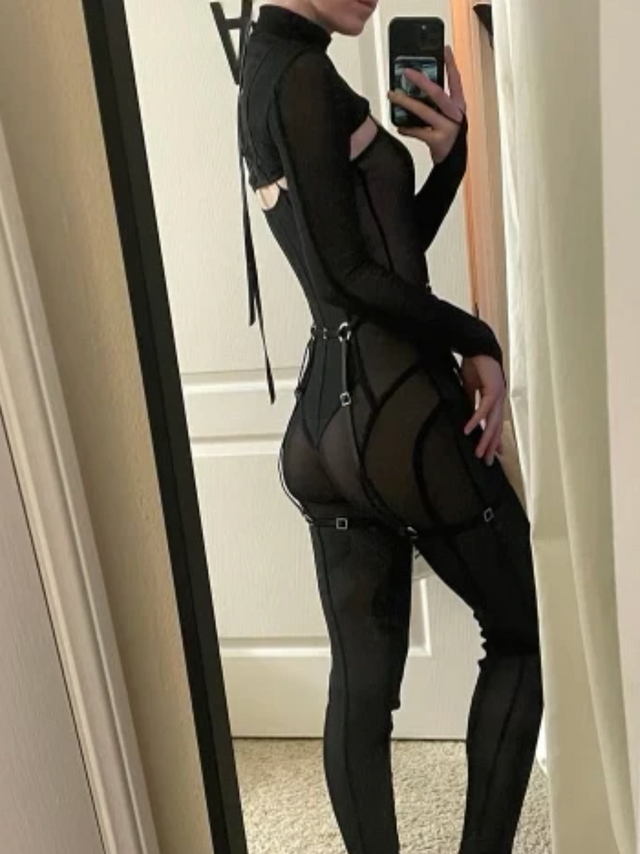 how to style a catsuit with lingerie to create your new go-to #ootn
style a catsuit like a fashion stylist with these tips
Catsuits are just one of the fashion staples that are never really in or out of style — they're always ready to steal a moment when you bring your mojo to play. And if you're concerned whether your piece looks dated, try styling it like your fav fashion editor or stylist with lingerie pieces that up-level your look instantly. Check out some of the catsuit styling ideas we love below, and while we love a good stay-at-home-and-lounge-in-my-catsuit-night, these looks are far too luscious to keep indoors. 
xxx
layer a bodysuit under your catsuit
We love a cut-out or sheer catsuit with a silk or lace peeking out strategically. Beyond being sexy AF, the sensual blend of textures against the skin make it worthy of a night staying home in bed.
slip a bralette over a high-waisted catsuit 
A sexy little bralette, ouvert or silk + lace bra slid over a high-waisted catsuit turns even the simplest catsuit into eye candy. It accentuates your curves and adds more personality, dimension and customization to your fashion mood.
cinch a bustier over a sheer catsuit
Lace, satin or satin bustiers deliver that extra bit of structure to your go-to catsuit by creating a corset-like effect that shows off your waist and curves. Not to mention, some of like that feeling of extra compression.
 
📸 + model: octavia tulip
pair a full-body lingerie harness over any style of catsuit
Create  instant harness detailing with a lingerie body harness that adds shape and sexiness from next to upper thighs. We love a style that complements the catsuits inherent cut and fabrics so you create that strappy, lingerie set look.
slip a high-waisted panty over a head-to-toe fishnet catsuit
Ready to take that lace or fishnet catsuit out on the prowl? Pair it with a high-waisted panty that simultaneously lets you spotlight your lingerie while giving just enough coverage to keep it legal ;)
 
slide a high-waisted panty or cheeky under a catsuit
A high-waisted panty cheeky slid under a fishnet, mesh or sheer catsuit gives you more room to play and gives the look of a completely new outfit. 
pair a lingerie waist harness to accentuate catsuit curves
Create a belt-like look that by styling a simple harness band as a belt or if you've got pro styling skills, slip a strappier version under your catsuit and loop through a bra and panties.
add leg bands over upper thighs on mesh or opaque catsuit
We love that garter look over virtually any style of catsuit — as long as it doesn't compete with or get lost in its pattern or style. 
 
slip your sexiest, skimpiest bodysuit beneath a sheer AF catsuit
Layer a sheer or lace bodysuit under a catsuit which lets you experiment and play with wearing your more revealing lingerie as fashion.
top any catsuit with a kimono
Style the kimono like a jacket and leave open or closed depending on how much catsuit you want to show off. Our stroke of midnight kimono comes with detachable sleeves for endless year-round styling options with all your body-con catsuits.
layer a cupless bodysuit over a lace or jersey catsuit
Style a sheer or lace cupless bodysuit over a catsuit to add playfulness, touchable texture and a sexy silhouette.
style lingerie chokers or collars with any style of catsuit
Collars or choker-necklaces are a fast, sexy and simple way to dress up a catsuit. Think metal, silk, lace and leather. The simpler your catsuit the more you can make your neck candy a statement. Bonus: It gives you a starting point for where you want to be kissed.
just add a bandeau to a simple black catsuit
One of our favorite bandeau hacks is sliding it over our booty, which is a sexy way to take a sheer mesh catsuit out to play. You can also wear over your chest to up-level your look.
up-level a catsuit with a lace bra
A sexy AF bra styled over your sheerest, laciest or most cut-out catsuit not only helps you take your fit from sheets to streets but it also gives you the freedom to create a new look every time.
What are your favorite ways to style a catsuit? Share your inspiration in the comments.
style a catsuit w/luxury lingerie
more sexy ways to style lingerie