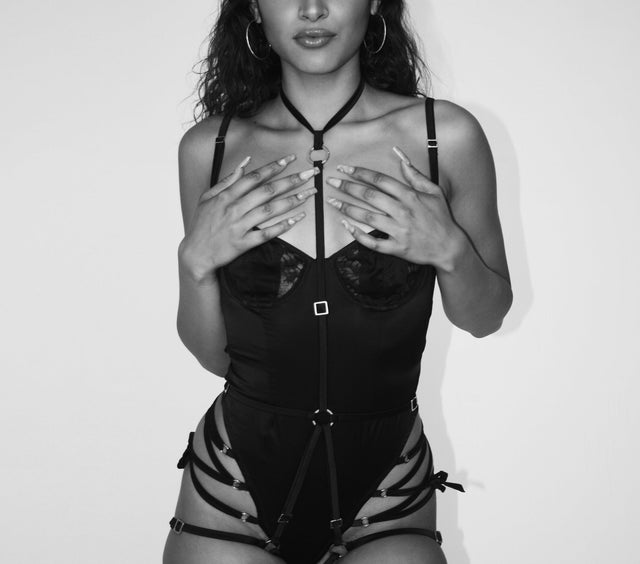 7 luscious ways to let our lingerie up your bedroom magic
let our lingerie slip you into your superpower
We love to use our sexiest lingerie for more than showing off our most stunning assets. We love it for harnessing our sexual, creative and sensual flow and using it as a way to play, flirt, tease and communicate with our partner. See below for 7 tips to use your sexiest bodysuits, bras, panties and lingerie sets to do the talking (and sexting) for you so you slip into your superpower state in seconds. 


1. lingerie flirts for you
We love this tip from master fetish trainer, psychotherapist and mother of 4 Jet Setting Jasmine: Hang your sexiest lingerie somewhere where your partner can see it, let them wonder why it's out, let them ask you what it means, make your answers as direct or mysterious as you like + let the dance begin.
2. lingerie signals your mood
How you wear your lingerie is as telling as what you're wearing. For example, our deja vu 18 cupless bodysuit can be worn strapless with the choker to signal you're feeling submissive or worn with all the fierce, 14k-gold-plated hardware and straps when you're feeling more dominant.
3. lingerie kinks you up
If you've got lingerie that's used up its shelf life, Jet Setting Jasmine suggests it might be time to tear it up. If "defiling lingerie" is your kink, let your partner know they get to rip it off later (just make sure they're tearing off your luxury pieces).
4. lingerie restrains your lover(s)
The removable silk ties on our bodysuits and panties aren't just for fashion. They're designed to rope them in, tie them up, tether them to you… the fantasy is yours for the making.
5. lingerie learns your secret codes
Together, come up with ways to telegraph your barometer… or play with turning it up and down… and up again. Red bra? It's on. Stockings? Seduce me. Crotchless panties? Lick me now. Cuffs? Grab it while it's hot. Silk kimono? Run me a bath. 
6. lingerie does your (dirty) talking
Tempt them with dirty texts throughout the day. Not great at talking dirty? Sign up for our email list and download 21 ready-to-send naughty sexts instantly. You're welcome. 
7. lingerie ignites their senses (+ yours)
Put our Scorpion Collar-Choker in the fridge (for later). Remove the tie of our Boa High-Waisted Panty, spray it with your signature scent and leave it laying around on, say, the sofa. Wake them up to the sound of the straps on our Deja Vu 11 Bodysuit snapping against your thigh. 
---
---
What are your fave ways to play with our lingerie? Share your sexy inspiration below.
more ways to play with our lingerie
slip into your power suit + keep reading