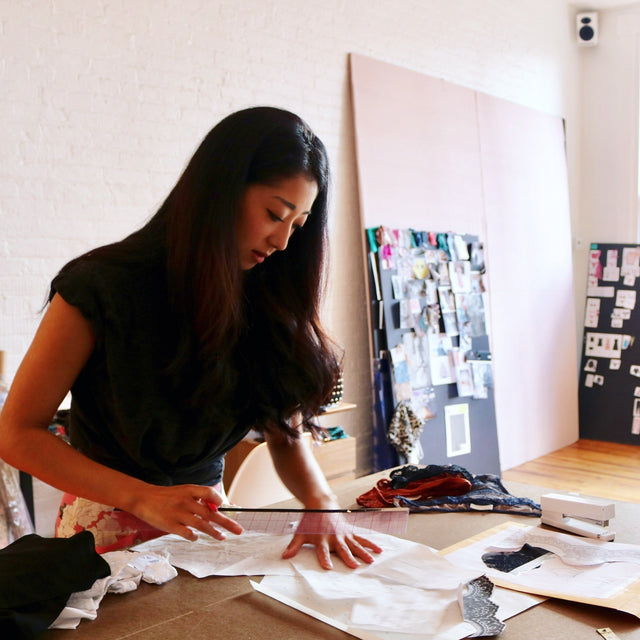 Ayaka Notake: lingerie designer for the sexiest brands seen on celebrities
you've probably worn designer ayaka notake's luxury lingerie
If high-end luxury lingerie is your thing, you've probably slipped on (or stripped off) a sexy bra and panty set, black bodysuit or lace catsuit that Ayaka has concepted, sketched and/or designed for some of the hottest brands right now. Ayaka Notake, this Tokyo-based, designer gun for hire and global trendspotter, keeps her bedroom inspiration private, but if her portfolio is representative of her imagination, we say, keep doing whatever it is that keeps your fire lit.  Read on to learn how she designs and see a few of the pieces she's created... 
xxx
You work for some of the sexiest names in luxury lingerie, how much of each design is you?

ayaka notake: 
It really depends because sometimes, especially when I'm working with a creative boss, she will send a lot of references that I will kind of interpret and sometimes it's really hard to break away from the reference. So when I'm given a reference, I would say probably 20 to 30% of the design is me executing it. But when I'm doing my research and my sketches, I would say 80 to 90% is me. Often, I do have references, but I also like to kind of play around as I sketch. So it does depend on where the reference came from and what outcome you're looking for.

Source: Paper Magazine, April 2016
You make sexy designer lingerie, but also you use lingerie and you wear lingerie. What design epiphanies have you had based on your love life or sex life? 

ayaka notake: 
Definitely. I mean, to be really honest, I like wearing lingerie but I get really shy about dressing up for a man and I have a hard time doing that, especially when it's somebody that I've known for a while. I don't know if it's just me, but I get really shy and I guess if you're comfortable with them, it's hard to bring in something that is really not me. Like I have a hard time even imagining how I would come out dressed up in very bedroom-oriented lingerie. But I definitely have realized, after designing a piece and it's selling, oh, this should have been crotchless. Or, you know, like when you actually imagine the situation and think, oh, this is cupless and it's a bodysuit, this should have been crotchless so you don't have to ever take it off. Things like that, I definitely have realized after pieces were designed and produced. 
So when you're designing lingerie, what are some of the elements that you intentionally put into a piece to make it look or feel more luxurious? 

ayaka notake: 
So definitely the material and constructions, and little attention to details like, in recent years there's been a lot of these strappy details that could be easily done with elastic or trims, but I feel like it's always nice to cover it with satin or silk when we have straps rather than just exposing the elastic by itself. And it definitely gives that luxe feel.  I definitely feel the material is the most important thing, and maybe because I've been looking at laces for years, I just can't help but notice right away when it's a nice lace versus a very cheap lace. I don't know, for me when I see the lace and it's not a nice lace, it's a turn off. So definitely the materials and some of these details. 

Source: Elle Magazine, May 2015
What is it about the lace we should be looking for? 
 
ayaka notake: 
There are many variations of lace machines, like leavers lace or chantilly lace. They are these old traditional machines that they've been using and running, and those laces tend to be more intricate and also there's many different grounds, so if it's like a meshy ground, there's three or four different sizes of holes, but basically these machines can execute very fine details. So when you look at clippings of laces, it's just so beautiful, it's like artwork. More modern technology machines try to mimic these kinds of traditional laces, but somehow you can tell. I think it's also the yarn that they use is different. It tends to be kind of light or very thin and soft, but there's no dimension. Or it's very thick. And again, they're trying to mimic these very nice, expensive laces, but it's just not the same. It's hard to explain without showing you the difference. But there's definitely those differences. The more not-so-nice laces can be a little bit softer, because there's not much dimension whereas the nice laces, it's intricate and sometimes it could be a little bit scratchy, but really depends on how it's finished. So I don't think nice laces feel any better than other laces. 

Source: SS VS Magazine, 2015
Are there any surprising or little known things that we should look for when buying luxury lingerie so people know it's super luxurious? 
 
ayaka notake: 
I don't know if this is surprising, but I don't think that lingerie should be uncomfortable. You know when it's fit right and when it's produced right, I think it should be pretty comfortable. So if something doesn't fit you, or if cups are digging into you, maybe they're using a really nice material, but maybe the fit is not as luxurious as you might think. I talk to people all day about lingerie and develop it all day, but I'm curious about what [customers] think of lingerie. You know, any concerns or maybe something they noticed when they wear or buy lingerie.   
---
Do you have a favorite lingerie piece that you've designed? Something you're obsessed with or love or feel super proud of? 

ayaka notake: 
I have a few and I wish I kept all the pieces that I've designed in the past. Definitely a few of my favorites are from Fleur du Mal because I was heavily involved in all aspects of development and even you know some of the directions like prints and all that. There's one bra that I'm so regretting not getting. It was this cherry embroidery, kind of like filled-in cherries and peaches with a trimming in navy satin. And yeah, that's one thing that I regret not getting because it was a great fit. I just really loved it, but I don't know why I didn't get it. 
---
How do you want women to feel when they wear what you've created? 

ayaka notake: 
I want them to feel good, just feel confident and be themselves. And obviously that doesn't have to be for the bedroom, it could be for an important meeting or just part of their daily routine in the morning.   
---
We believe women are complex with many sex personalities and moods (naughty, lustful, playful, happy, pissed off, on the hunt… etc.), and therefore lingerie personalities and moods. What are your lingerie personalities and do have lingerie to satisfy each of them? 

ayaka notake: 
I definitely agree that there are different personalities to the lingerie, and of course, like women themselves. I think my lingerie personality would definitely be playful. I feel like my aesthetic used to be much cuter and now like having had some experience, I definitely stay away from the more cute or romantic styles. I'd rather go a little bit sexier and more playful.  
---
Do you think women have different lingerie for each of these moods?
 
ayaka notake: 
Yeah, definitely. And the lingerie itself could feel different just by changing the color too, so if you had something that's completely white versus having it in black or in a little bit more aggressive colors, that alone changes the personality of the pieces. Also the shapes, the type of lace could feel different. 
Source: CR Fashion Book Issue 10

People are always wondering how to style luxury lingerie... how are you styling lingerie as an outfit, any unusual or surprising or sexy ways?

ayaka notake: 
People tell me that I have a pretty unique styling aesthetic. And definitely in the US in the environment I was in, I was so comfortable wearing, let's say, a semi-sheer bra and then putting on a mesh T shirt or something, and I would be completely fine with that. And now that I've been back in Japan and kind of surrounded in a different environment, I definitely started to try to tone down what I would wear out, especially to work. Because I think people here are much more conservative and I just don't want to be noticed in that way, like oh, she has an interesting dressing style. But I really think of lingerie as part of my outfit, so if it makes sense to show, I think it's really nice. Not in this seductive way, but if it goes with your outfit by showing little bits of lace or whatever it is, you can do whatever you want. 

Source: Vogue Ukraine, August 2017
Are there certain pieces you wear on the outside? 

ayaka notake: 
It's usually inside and it either peeks out or I wear under a sheer top.  
---
Well, you were also working in New York with female founders...
 
ayaka notake: 
The mentality in lingerie companies is so different. I guess even if I'm comparing the environment I was in versus more corporate office jobs, it's different. I have a friend who I used to work with at Fleur du Mal, and she switched her career from fashion to non-fashion and she's told me multiple times, 'I forgot that the environment we were in is not the norm.' And she has to tone down what she wears to work and the coverage of course. Yeah, so that just kind of keeps me in the loop, like this is a specific environment and not for everyone. 

Source: VS Magazine, Sept 2014
When it comes to sex or lingerie, what are some of your pre-game rituals?

ayaka notake: 
I do like nice-smelling things and always taking a shower to refresh myself is a good starter, but I don't have any specific rituals like that. 
 
---

So you have a signature scent that you always wear?

ayaka notake: 
I haven't worn any perfumes for years now and I've actually been perfume shopping for the past maybe like 3 to 4 months. I like many scents but I want to find the one, you know? An interesting fact, my name in Japanese is written "colorful scent."  
---
Oh! So how do you not have one then? ;)

ayaka notake 
Yeah, I don't know. I've definitely neglected my name. 
---
Well, your secret is safe with us. And since your name is written "colorful scent," if your lingerie vibe would be a scent, what do you think it would be?  
ayaka notake: 
Definitely not sweet. I think something more refreshing or kind of moodier. I personally really like the smell of jasmine in kind of a floral way, but not sweet. I don't know... I really need to get back on this scent game. 

Source: W Magazine, May 2015
What about texture? What's your lingerie vibe? 

ayaka notake: 
Definitely smooth and silky or soft and kind of buttery. Also delicate.   
---
So I have to imagine that when you're at parties and events, and people find out that you design lingerie, they always have questions... What do people always ask you? 

ayaka notake: 
A lot of times, they're very curious how it's done, like how I design. And you know it's pretty much the same thing as fashion design. For me it starts with the fabric then the design and development stages. And I feel like it's pretty normal when you don't work in a certain industry, you don't really know the details of what they do day-to-day. A lot of times I get asked, so how do you design? Or sometimes I get jokes, like how many ways can you design lingerie, like a bra? It's a small piece, how many possibilities are there? I always say, so many. In general people are just curious how it's designed and made. And sometimes you know if it's a male that's asking, and I used to work at Victoria's Secret, so then I would be asked if I get to see models all the time and that kind of stuff. They were thinking about the Angels.  
---
How does it work starting design with fabric?
 
ayaka notake: 
Right now I have a really small archive, like a closet of fabrics, but let's say at Victoria's Secret or anywhere I've worked, there's usually all the archives of fabrics, or laces, sometimes silks, meshes, pattern meshes, so all in these archive closets and then seasonally I would go see fabric mills. Especially the lace mills, I would pull stuff that I'm interested in potentially using. And then when we start the designing process, first I choose the lace or the main material and that will kind of give me the scoop of what I can do with that fabric. So for example, laces, like if it's a galloon, like an 8-inch lace, then you know I can't do like all-over designs for example, whereas if I'm using all-over designs, I won't have scallops, so maybe I need to use lace trim or I could finish it with binding, so having the main fabric kind of gives me the direction of like what I can do physically and what I would need to add to get the design that I want to achieve.  So an example, when you have a fabric and let's say if it's like all-over lace and you're making a triangle bra cup, then I just kind of guesstimate how big the piece of triangle would be, like how much actual lace pattern you're getting in one cup. Because when you look at the fabric on its own and it's flat, you don't really see how it's going to be when it's cut and pieced together. So I'd like to imagine what it would look like when it's cut into pieces. 

Source: GQ Magazine, June 2010
And then usually, even if there's a flower or something, depending on the scale of the flower, it gets cut off depending on the design that I choose — we're not getting the full flower. That's something that I consider when I'm designing as well, like if I love the flower and want to include it, I would try to design it so that there's not as much seams that would disrupt these designs of the fabric. And sometimes I like to try it on, so I would put it against me. So if it's a galloon lace I'm making into a bra, I make an easy dart and put it on myself against the mirror to see how it's going to look.  And I think also choosing fabric and design could go back and forth, like if I picked a lace and sketched something, and if the sketch was like something I wanted to achieve in the end, I might end up choosing a different lace for that particular sketch. So it's not always set in stone once I begin with the lace itself. Sometimes it's kind of like work in progress, so it changes as we go along.  
---
---
What questions would ask a luxury lingerie designer? Comment below...
shop luxury lingerie that's made to play
stimulate your mind with erotic reading