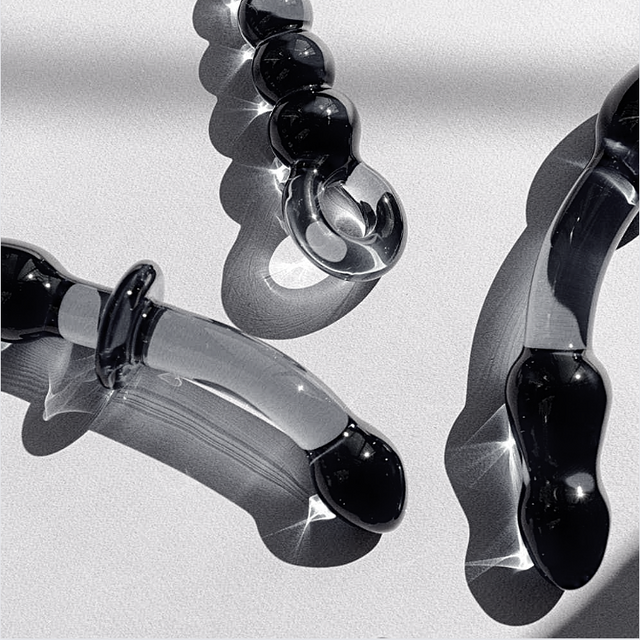 9 of the best glass dildos we're bringing to bed with us
glass dildos just hit different...
Dildos aren't new — scientists believe the oldest ones discovered are about 28,000 years old. While there hasn't been that much innovation in 28 millennia, we're seeing a gorgeous slate of brilliantly designed glass dildos, wands, massagers and other playthings that are crafted for serious pleasure both sexually and visually. These objets de art are not just beautiful, they're curved to hit all the right p-, c-, a- and g-spots, while giving you that yummy, thicker, fuller feeling. They're also amazing for temperature play because they heat up and cool off easily while retaining their heat, plus they're sturdy AF. Use them with loads of lube (they're compatible with any kind) both internally and externally.
Check out our faves below. 
xxx
double-ended glass dildo
When you can't decide between the feel of weighted balls or the head of a cock, we bring you the double-ended glass dildo. Perfect for temperature play, anal massage or whatever your heart (and pussy) desires, this 9.5-inch masterpiece of pleasure inspires all kinds of tease, play and discovery. $13 
big, girthy + realistic glass dildo
 If you like to keep it real, you'll love this thick AF, uber-realistic, 7-inch love machine. It's got that perfect curve your g-spot craves with a textured tip that just hits right. Works with all lubes, and temperature play. $25.
Unbound's high-grade, 100% borosilicate glass dildo, aka Stellar, is the stuff of fantasies (and not just because it's got those alien vibes). It's got more than 10 delicious inches of length (5 inches insertable) with 3.75 inches circumference at its widest, along with a curved handle for g-spot and anal exploration. $38.
tentacle glass dildo
Okay, hear us out... a hand-blown glass dildo shaped like an octopus tentacle is hotter and more luxurious than you think. This version, Icicles No 24, is insanely lightweight, ridged for extra sensation and curved to make you squirt. We love it heated in a bowl of hot water and lubed up. No ocean waves soundtrack necessary. $86.
beaded glass dildo
This magic-wand-style Icicles No 2 glass dildo is hand-crafted, hand-blown and designed to pleasure both booties and vaginas alike. The bulbous design makes entry and exit a little more fun, plus gives temperature play a new dimension. $38.
the ultimate dildo threesome
Sex coach, vaginal weight lifter and orgasm whisperer Kim Anami created this trio of couture dildos, The Holy Trinity, with all the girth, curve and length you need to have the ultimate spiritual experience between your legs. Each glass wand has a unique shape, weight and function and is designed for you to reach your full orgasmic cervical and g-spot potential. $897 for the trio (they're also sold separately for $299 each).
cervical and g-spot dildo
The impeccable design of Waands' Cervix Wand makes it ideal for cervical and g-spot stimulation. It's lightweight, narrow and curved for exploration, massage and play while speeding along healing from pain, trauma and more, making it perfect for pussies just getting into the cervical orgasm zone. $109.
What are your favorite glass dildos, wands and massagers? Share below 👇💋
shop luxury lingerie to pair with your glass dildos
crystal dildos, glass dildos, yoni eggs + more