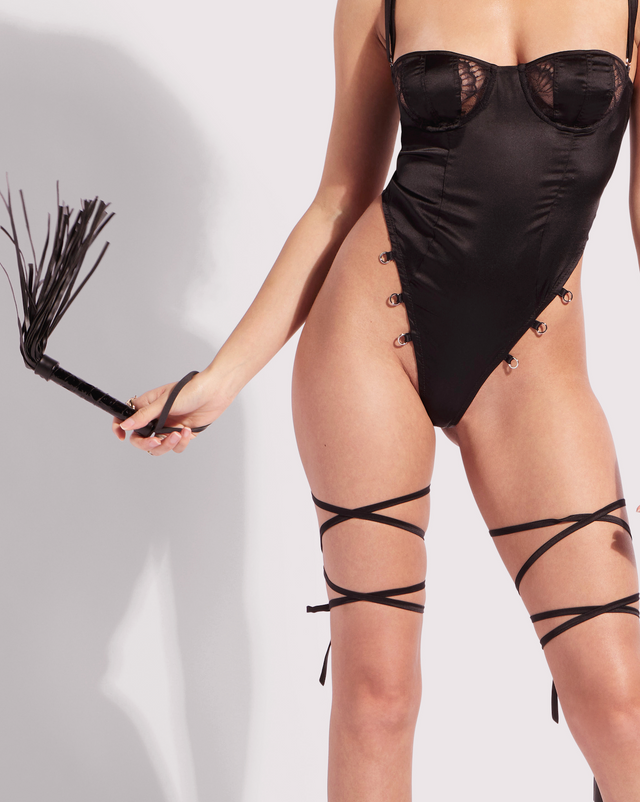 experience hunters wanted: 19 ways to fuck around with our lingerie
our multi-way lingerie is just begging for your body
We've said it before but it's worth repeating: You're not one thing your lingerie shouldn't be either… That's why we don't want you stock your lingerie drawer.  We want to help you build an arsenal of playsuits, playthings + playmates that help you unleash your soul and ignite that sensual, creative and sexual flow that's your superpower. However that looks for you. Check out our 19 ways to fuck around with our lingerie and see what you can discover or uncover about your desires... 
xxx
1. tie, tease or tempt your erogenous zones with compression, tickles or the silkiest (consensual) flogging ever using the removable lace-up ties of your champagne room 33 bodysuit
2. detach + reattach hip bands on our deja vu 18 cupless bodysuit (shown) to themselves or each other to create garter looks
3. remove or add detachable neck harness straps of the deja vu 11 and deja vu 18 bodysuits to signal your mood 
4. wear detachable14k-gold trimmed hip bands as arm bands
5. wear detachable 14k-gold trimmed hip bands as wrist candy
6. style the cupless bodysuit with your fave bra or second-skin tank for a sexy new look or pair with our mix-and-match bras for more peel-off and strip-off effects or
7. build endless lingerie sets by mixing and matching our multi-way pieces with each other
8. style our chandelier waist harness as a waist band to explore how silk compression feels around your waist
9. wear our waist harness with bottom bands only and wrap them around your favorite thong or g-string to turn it into an instant harness look
10. tether yourself to a partner for restraint play using our scorpion ring collar as a choker, handcuff or faux zip ties on ankles, wrists, necks and waist
11. chill our collar in the fridge to experiment with temperature play of the metal juxtaposed against the feeling of silk


12. silk cock ring, anyone?
13. remove the stretchy, strappy silk ties of your boa panty and drag them down your partner's back to feel a tickle down their spine
14. detach the lingerie harness chokers on our déjà vu 11 and 18 bodysuits and style with #OOTD for a little fashion pre-gaming
15. wear bodysuits with and without removable lingerie harnesses to discover how they move you to feel more playful, more fierce, more ignited
16. snap the luxurious, criss-cross, elastic lacing of our bodysuits onto hips for that light impact play against your skin
17. style the flatiron body harness backwards underneath your #OOTD so you can tease your back with silk throughout the day
---
---
How does your body like to touch, feel, savor and explore all the ways to play with our luxury lingerie? 
shop new, ready-to-play, multi-way lingerie
need more tips for styling lingerie to play? read on...