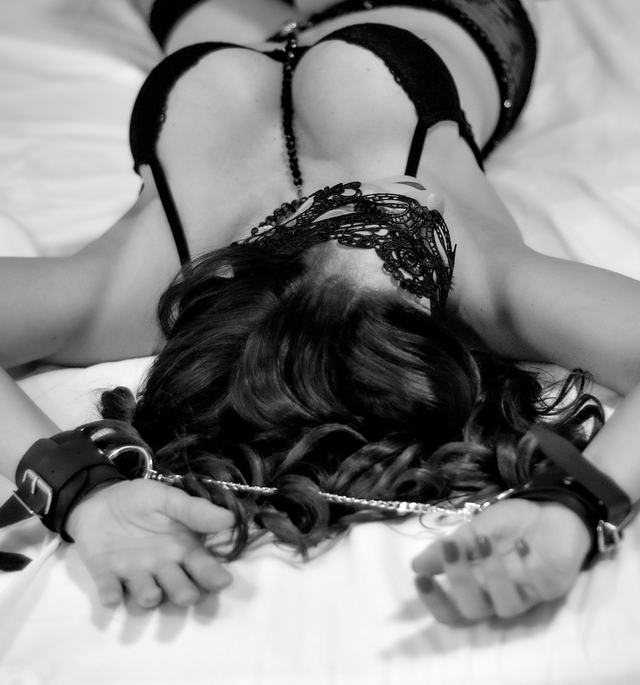 holiday gift guide: all they want for christmas is to be handcuffed.
we've got the keys (+ cuffs) for a sexy holiday gift guide
This holiday Santa's bangin' out the bracelets for his baddies list. You don't need to be a BDSM slave or Domme to scratch these intimacy handcuffs on your wishlist. Even beginners in bondage will discover how restraint play can step up pleasure and fantasy. From 24-carat gold to Italian leather collar-and-cuff sets, these master players are gorgeous enough to wear out, making the fashion statement, "I'm not your bitch... but I might make you mine." Happy gifting.   
xxx
Handmade chocolate, anyone? Make it dark and decadent with these handcrafted pair of cuff wraps made with Vachetta leather, created with an ancient tanning process using natural raw materials such as bark, leaves, roots and berries instead of chemicals. The gold-plated buckle give the 46mm-wide cuffs a stylish edge, available in three sizes of black, charcoal, chocolate, dark chocolate and honey. $510  
---
Brigade x Upko Limited-Edition Leather Handcuffs 
Gift them with some good manners. UPKO resources leather from one of the largest and best suppliers in Italy, used by the likes of Givenchy and other top design houses. Senior artisans craft each of these limited-edition YES SIR cuffs by hand, accenting them with galvanized 24-karat gold-plated lettering encrusted with crystals. Adjust the buckles to comfortably use on wrists or ankles with double-snap hooks, or just wear alone for the ultimate people-pleasing look. $280 
---
Knock, knock, look who's cumming this holiday. Amazing for over-the-door play, the adjustable, lined cuffs connect to a center ring and adjustable 8" strap ensure that your wrists (or ankles) stay comfortable when allowing others to enter. The eye-catching color made this pair a TikTok sensation and the accessible price makes it a fun BDSM-starter gift. $39       
---
Fleet Ilya has been a dominant player within the refined fetish wear scene since 2003, with their conceptual designs worn by the likes of Sienna Miller and other powerfully sexy fashion icons. Their T Chain Collar and Cuffs can be worn frontside and back with an O-ring allowing generous movement. Handmade in England with saddlers leather, nothing says, "mount me now please" like this sexy gift set. $170 
---
Sex goddess and erotic educator, Taylor Sparks features these Italian-leather cuffs on her site, organicloven.com, and we couldn't resist passing another UPKO creation on to you. The modern BDSMer appreciates multi-use and these luxuriously sturdy pair features a T-shaped plate and ring accent to keep your hands in all kinds of action. Attach the handcuffs to each other with the double-ended carabiner or connect them to a spreader bar, thigh cuffs or hogtie. Available in regular and large sizes. $89.99 
---
Golden handcuffs are no longer limited to the corporate "boredroom." This one-size-fits-all 24-karat pair by Kiki de Montparnasse will give you thrills that are anything but cheap. You're worth it. Wear the jewelry-worthy fine-link chain holding the key as a daily reminder to unlock your deepest passions. $425 For an ultra-luxe BDSM experience, fasten these bracelets around the leg of a Kikidm Tufted Boudoir Chaise. $28,500. 
---
Want to give bondage a try before fully locking it down? This bendable style in stainless steel features and open back to help you open your mind to this exciting way to spice things up. The detachable chain can link back to one cuff or attach between the two, giving you a sense of gentle restraint. Packaged in a velvet pouch and gift box, these cuffs in black, gold and silver make for the perfect sexy santa surprise. $190
---
---
What's on your holiday gift guide?  
add luxury lingerie to your holiday gift guide
stock your wishlist with these